Clutha anniversary: Police face firefighters in charity hockey match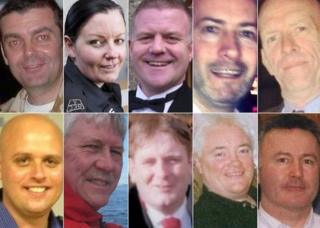 Police officers will face firefighters in a charity ice hockey match on Saturday to mark the first anniversary of the Clutha helicopter crash.
Officers from the Scottish Police Ice Hockey Section will take on the UK Fire-fighter Ice Hockey Team at Braehead Arena near Glasgow.
The helicopter crashed onto the busy Clutha bar on 29 November last year.
The crash killed 10, including pilot David Traill and Pcs Tony Collins and Kirsty Nelis, who were on board.
Mr Traill was attached to the Police Scotland air support unit.
Lives lost
The match on Saturday is being held to commemorate all those who lost their lives in the disaster and to recognise the efforts of everyone in the emergency services who were involved.
The Eurocopter EC 135 crashed onto the bar - which was hosting a live band and was packed with customers - at about 22:35 on a Friday night.
Those killed in the pub were John McGarrigle, Mark O'Prey, Gary Arthur, Colin Gibson, Robert Jenkins, and Samuel McGhee. Joe Cusker was pulled from the wreckage alive but later died in hospital.
A preliminary accident report found that both engines on the aircraft failed but did not point to an exact cause of the crash.
A total of £1 from every ticket sold will be split and donated to The Scottish Police Benevolent Fund and The Fire Fighter's Charity.
'Tragic circumstances'
Constable Adam Wilkie, of Police Scotland and of the Scottish Police Ice Hockey team, said: "The events that night will be forever etched on the memories of all involved, from the families who lost their loved ones in such tragic circumstances to everyone who supported the emergency services that evening and beyond and of course the people of Glasgow.
"We're keen to recognise and pay tribute to those involved in the disaster by hosting this hockey match to raise much needed funds for two very deserving charities. We hope to raise as much money as possible so they can continue to provide essential support to others."
"Both Braehead Clan and Braehead Arena have been fantastic, and we've been very pleased they've been able to support us in our efforts. Regardless of the final score on the night, the event is being held to pay tribute to all who lost their lives in such tragic circumstances."
There will be a prize raffle at Saturday's event and spectators will be able to buy a variety of gifts and items which have been donated by local businesses and shops.
Paul Morgan, of the UK Fire-fighter Ice Hockey Team, said: "The UK firefighters team are looking forward to this, our first game against the Scottish Police team.
"We are pleased to be helping to raise money for the charities. Our thoughts are with the families and friends of those who perished following the tragic accident last year."