Crime in Scotland at lowest recorded level in 40 years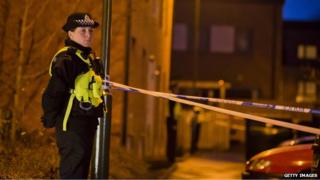 The level of recorded crime in Scotland has reached its lowest level in 40 years, falling by 1% in the past year.
Official statistics also showed a 10% reduction in violent crime between 2013-14, with the number of homicides halved over seven years.
The crime clear-up rate of nearly 52% is the highest since comparable records began in 1976.
However, the number of recorded sex crimes has seen a rise of 12% since 2013.
This includes a 13% increase in the number of sexual assaults - which account for 40% of the total recorded sex crimes.
A larger percentage increase was visible in cases of recorded rape - up 24% in 2013-14, compared to 2012-13. Police Scotland has attributed this to a rise in victims coming forward to report historic crimes, more than a year after the offence.
Sexual crimes have been on a generally upwards trend since 2008-09 and are now at the highest level since 1971, the first year for which comparable crime groups are available.
But Police Scotland said the clear-up rate for sexual crimes was up by eight percentage points to 76% - the highest in the last decade.
---
Analysis
Reevel Alderson, Home Affairs correspondent
Crime levels in Scotland were last as low as they are now when Harold Wilson was prime minister, Lord Lucan disappeared and Scotland were undefeated in the World Cup finals.
Reported crimes have been falling steadily since 1992, so the drop in 2013-14 of 1% continues that trend.
Another continuing trend is in the clear-up rate - crimes which have been solved.
At 52% it was the highest since current records began to be compiled in 1976.
But while ministers and police say this shows Scotland is safer, minor offences, such as theft, housebreaking and shoplifting have risen slightly - by 1%.
And these are the crimes which are more likely to affect ordinary people.
Homicides are increasingly rare - down from 65 to 61 - half the number of killings compared with 2007.
But sex crimes rose 12%. Half the increase comes from historic crimes, which happened more than a year ago.
Statisticians say this shows victims have greater confidence to report offences.
---
Dangerous driving
The figures released by the Scottish government also reveal an increase in crimes of causing death by dangerous or careless driving, from 19 recorded cases in 2012-13 to 37 in 2013-14.
Cabinet secretary for Justice Michael Matheson said the figures should "serve as a warning for those drivers who continue to take risks on our roads", saying: "It is unacceptable, it costs lives and will not be tolerated by our law enforcement agencies".
Dishonesty crimes, including housebreaking, shoplifting and other thefts, also show a slight rise - up 1%, despite a continuing downwards trend since 1991.
Meanwhile, crimes of handling an offensive weapon dropped by 5% over the past year - a fall of 62% since 2006-07 and the lowest level since 1986 -, while the number of homicides is half the number recorded in 2006-07.
Crimes of fire-raising and vandalism also saw a 9% decrease over the year.
The overall police figures recorded 501,821 offences in 2013-14, but Scottish government statisticians advise that the figure of 543,768 for 2012-13 is not directly comparable due to changes in the way the data is collated.
---
Geographical spread
Ten local authority areas saw an increase in crimes recorded between 2012-13 and 2013-14:
Edinburgh City - up 14%
Midlothian- up 8%
Fife - up 6%
West Lothian, East Lothian and Angus - all up 5%
Inverclyde and Dundee City - up 3%
Renfrewshire and Scottish Borders - up 1%.
In the past 10 years (since 2004-05) crime in the Western Isles has gone down by 47%, in Argyll and Bute by 46% and in the Scottish Borders by 46%. Moray has seen a reduction of 42%, Highland of 39%, Aberdeenshire of 38%, Shetland of 38% and Orkney of 37%.
Orkney, Eilean Siar and Shetland are the most crime free, while Aberdeen city has the third highest crime rate in Scotland - after Glasgow and Edinburgh.
---
'Strong performance'
Police Scotland Chief Constable Sir Stephen House said: "The past two years has seen the biggest structural change to how policing is delivered in more than a generation.
"These figures demonstrate that our performance has remained strong throughout that period of unprecedented transition, the number of people becoming victims of crime continues to fall and that those who commit crime are more likely than ever to be caught."
Scottish Liberal Democrat justice spokeswoman Alison McInnes MSP warned that a generic approach to tackling crime would not address the specific challenges that communities across Scotland are facing.
"In Edinburgh, where a specialist local unit dealing with housebreakings was disbanded by Police Scotland, housebreaking is up by almost 40%," she said.
"These figures also don't reflect real public concern about the dismantling of valued local services and a unilateral shift towards an enforcement model of policing, with stop and searches being conducted on an industrial scale."
Sexual crime stats 'worrying'
Scottish Conservative justice spokeswoman Margaret Mitchell MSP said it was "hugely concerning" that the number of recorded sexual crimes in Scotland was at its highest for more than 40 years.
She said, "While some of the cases being reported are of a historical nature, they cannot be all attributed to the number of rapes and attempted rapes going up by almost a quarter in a year.
"And what's even more worrying, is that because of the massive unreporting of rape the actual figure is likely to be even higher.
"The audit of sexual crimes by HMIC also raises concerns in how some cases are tackled and victims must be reassured that if they come forward with a complaint it will be dealt with swiftly and thoroughly."
New Justice Secretary Michael Matheson, meanwhile, said he recognised that there was still work to be done and citing £3.6m funding to support victims of rape from 2012-15.
Speaking about the increase in reported sex crimes he said: "We want victims to have confidence to report these crimes.
"The Scottish government, police and prosecutors take the investigation and prosecution of these traumatic crimes extremely seriously, which is why we have strengthened the law around sex crimes by bringing in the Sexual Offences (Scotland) Act 2009.
"The new national police service has improved investigation techniques, setting up a new National Rape Taskforce which treats rape as seriously as murder. It is also reassuring to see the best clear-up rate for these crimes in a decade.