Scottish Book Trust calls for library card for every child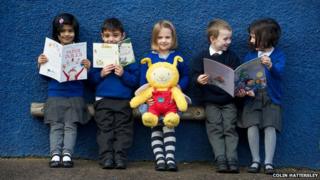 Every child in Scotland should be automatically enrolled in their local library, according to the director of the Scottish Book Trust.
Marc Lambert made the call at the start of Book Week Scotland.
He said the move would not only benefit children but would also secure the future of libraries.
Hundreds of events are taking place at libraries across the country this week as part of the national celebration of reading.
With some local authorities making cuts to library services, Mr Lambert said introducing children to their local library at an early stage was a good way to help ensure its survival.
He has called on councils and schools to take action.
"Every child when they start nursery, primary and secondary school should be introduced to their local library and receive automatic membership," he said.
"If children and young people learn early on to love their library, they will become library users for the rest of their lives.
"This relationship, between the individual and their local library, is one of the most important there is, benefiting the individual in many different and wonderful ways throughout the whole of their life."
As part of events taking place to mark Book Week, hundreds of books will be given away for free and five new large installations are being unveiled at sites in North Ayrshire, East Dunbartonshire, East Lothian, Edinburgh and Shetland.
The aim of the artworks is to make libraries more visible and valued in their local areas.
Well-known poets and writers have also penned love letters to their local libraries.
The director of the Scottish Book Trust has highlighted the part libraries themselves should play in reaching out to local communities.
He said: "Libraries must be enabled to advertise and communicate with their customers and potential customers better.
"In order to survive the local authority cuts that are coming and prosper in the 21st Century, libraries need to reach out to their local communities in more evident and assertive ways.
"Survival for libraries is not just a matter of meeting the technological changes of the digital age. Like any business, it's about the relationship one has and the services one delivers to one's customers."
Later this week the trust will unveil the results of a poll to determine who is the nation's favourite character from a Scottish book. Readers of all ages have been asked to chose a winner from a shortlist of 50.
Meanwhile primary one pupils across the country have been receiving three free picture books aimed at inspiring a passion for reading from a young age.
Jenny Niven from Creative Scotland said: "We encourage everyone in Scotland this week to begin your relationship with books all over again.
"Make time to reread your favourite authors, ask your friends and colleagues to recommend new ones, and of course spend some time going to any one of the literally hundreds of events happening all across Scotland this week to meet writers first hand."