MSPs agree drink-drive limit change following debate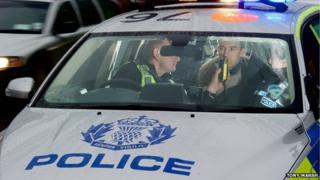 Changes to Scotland's drink-drive limit have been approved by the Scottish Parliament
MSPs voted on a proposal to lower the alcohol limit from 80mg in every 100ml of blood to 50mg in every 100ml of blood.
The new rules would come into force on 5 December.
A campaign to highlight the change is under way. Both the Scottish government and police have said the best advice for drivers is not to drink at all.
Justice Secretary Kenny MacAskill announced the plans to lower the limit last month.
In practice the change would mean a glass of wine or a pint of beer could put a driver over the legal limit.
The move has the backing of MSPs on Holyrood's justice committee.
Kenny MacAskill's amended motion is passed unanimously.
On Monday an awareness campaign, including television and radio adverts, was launched.
Police have said an additional 35 drivers a week could lose their licences over the festive period once new alcohol limits came into force.