James McAvoy wins Scottish Bafta film actor award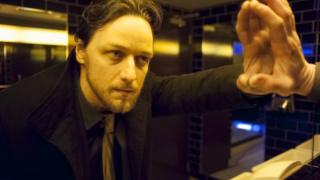 Hollywood star James McAvoy has beaten stiff competition from Peter Mullan and Jack O'Connell to win the coveted Actor Film award at Scotland's annual Bafta ceremony.
McAvoy won the award for his portrayal of a corrupt policeman in Filth.
Sophie Kennedy Clark won the Actress Film trophy for her performance in Philomena.
Other winners included David Tennant, who took the Actor Television category for his role in The Escape Artist.
Another big winner on the night was Shirley Henderson, who collected the Actress Television award for her role as a grieving mother in Channel 4's Southcliffe.
The winners of the British Academy Scotland Awards 2014 were unveiled at a red carpet ceremony at Glasgow's Radisson Blu Hotel.
During the event, Lorraine Kelly received a special award honouring her 30-year television career.
Dundee-based Kelly anchors ITV's morning show Lorraine, which began as Lorraine Live on GMTV in 1994.
An outstanding contribution awards also went to Tommy Gormley, a Hollywood first assistant director whose credits include the much-anticipated Star Wars: Episode VII.
He was praised in an emotional video message from Hollywood Director JJ Abrams who said: "I'd like to say three things. One: Bafta Scotland rules. Two: Scotland rules. And three: Tommy Gormley rules.
"Tommy Gormley is not just the most incredible first AD I've ever seen but is one of the greatest people I've ever met."
Starred Up
One of the night's biggest winners was Starred Up, which collected three of the four categories in which it was nominated.
The hard-hitting prison drama finished ahead of Filth and Sunshine on Leith to win the Feature Film award.
For his work on the film, David Mackenzie took home the Director Film/Television award, while Jonathan Asser picked up the Writer Film/Television trophy.
Will Anderson's Monkey Love Experiments triumphed in the Animation category.
Edinburgh-based video game studio Rockstar Games, accepted the Game award for Grand Theft Auto V, the latest instalment in the best-selling game franchise.
Bafta nominations (winners in bold):
ACTOR FILM
JAMES MCAVOY Filth
PETER MULLAN Sunshine on Leith
JACK O'CONNELL Starred Up
---
ACTOR TELEVISION
MARK BONNAR Line of Duty
DOUGLAS HENSHALL Shetland
DAVID TENNANT The Escape Artist
---
ACTRESS FILM
JANE HORROCKS Sunshine on Leith
SOPHIE KENNEDY CLARK Philomena
FREYA MAVOR Sunshine on Leith
---
ACTRESS TELEVISION
LAURIE BRETT Waterloo Road
SHIRLEY HENDERSON Southcliffe
SHARON ROONEY My Mad Fat Diary
---
CHILDREN'S PROGRAMME
ALL OVER THE PLACE AUSTRALIA
THE DOG ATE MY HOMEWORK
KATIE MORAG
---
COMEDY/ENTERTAINMENT PROGRAMME
LIMMY'S SHOW! CHRISTMAS SPECIAL!
MILLER'S MOUNTAIN
MRS BROWN'S BOYS
---
CURRENT AFFAIRS
BLETHERING REFERENDUM
DAVE: LOAN RANGER
PANORAMA: ALL IN A GOOD CAUSE
---
DIRECTOR FILM/TELEVISION
JON S BAIRD Filth
DAVID MACKENZIE Starred Up
DEXTER FLETCHER Sunshine on Leith
---
FACTUAL SERIES
BRITAIN'S WHALE HUNTERS: THE UNTOLD STORY
CLYDEBUILT: SHIPS THAT BUILT THE COMMONWEALTH
THE STORY OF WOMEN AND ART
---
FEATURE FILM
FILTH
STARRED UP
SUNSHINE ON LEITH
---
FEATURES/FACTUAL ENTERTAINMENT PROGRAMME
DREAM ME UP SCOTTY
I BELONG TO GLASGOW
LOCATION LOCATION LOCATION