Charity Brake launches campaign to cut road casualties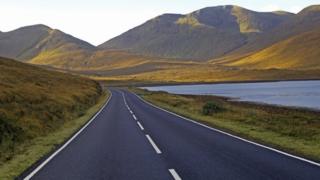 A charity has launched a road safety campaign in a bid to cut the number of deaths and injuries on Scotland's roads.
Brake wants all road users "to look out for each other" and "drive with more consideration for others".
The move came as it reported that a motorist is fined for careless driving or speeding every five minutes in Scotland.
It said 105,800 fixed-penalty notices were issued for such offences in 2013.
More than two in five children also told a Brake survey they had been hit or nearly hit by a vehicle while on foot or bike.
The road safety campaign is being backed by bereaved families from Scotland, where 172 people were killed and 1,667 seriously injured on the roads last year.
Brake deputy chief executive Julie Townsend urged motorists to look carefully and stick to 20mph or below in towns and villages.
'Horrific consequences'
She said: "When drivers use roads without care for others the consequences can be tragic and horrific - people killed and badly injured, lives ruined forever, because of a moment of impatience or selfishness.
"At Brake we witness the suffering that results, daily, through our work supporting people affected by road death and injury.
"And there are wider consequences if we don't look out for each other on roads - people afraid to walk and cycle or let their kids walk and cycle, and unable to get out and enjoy their community and live active lifestyles."
Last year 102,320 fixed-penalty notices were issued for speeding and 3,487 for careless driving, according to the figures released by Brake.
Brake also revealed the results of a survey of 900 primary school children in Scotland.
It found three in five (62%) children thought roads in their community could be dangerous for walking and cycling, while 44% said they had been hit or nearly hit by a vehicle while on foot or bike.
'Catastrophic impact'
Among those backing the campaign is Caroline MacIntyre, whose husband Jason, 34 - a well-known Scottish racing cyclist - died after he was hit by a truck while on his bike in 2008.
She said: "The crash has had a catastrophic impact on our lives; it is with us on a daily basis, not only for me, but for our daughters.
"It has been seven years since the crash and it never gets easier.
"So my message to drivers is please, slow down and take your time to look out for people - don't risk destroying lives."
The campaign is being launched at the start of Road Safety Week, which is co-ordinated by Brake.
Scotland's Transport Minister Keith Brown said: "This campaign raises awareness of key issues which need to be addressed if we are to continue to make good progress towards meeting our road casualty reduction targets.
"Working with our partners we must continue to ensure that everyone plays their part to make our roads safer."