Scots fundraising for Children in Need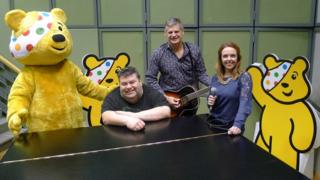 The annual Children in Need fundraising extravaganza has been taking place featuring some special Scottish highlights.
Jackie Bird presented live throughout the night from BBC Scotland's Glasgow studios.
A choir of 140 children from schools across Fife performed with hundreds of others from across the country.
By 22:00, viewers across the UK had donated more than £17m for this year's appeal.
Glasgow band Prides made an appearance - as did Nae Direction, featuring some of BBC Scotland's best-loved faces.
Performing together for the first time, members of Nae Direction include Jackie Bird, River City's Tom Urie and Scott Fletcher, Radio Scotland's John Beattie, weather forecaster Judith Ralston and actress Katrina Bryan.
Changing lives
A total of 17 schools across Fife took part in a UK-wide rendition of I'll Stand By You, with a special version of Make Your Own Kind Of Music aired exclusively in Scotland.
The fundraising programme, airing on BBC One, features stories about children across Scotland whose lives have been transformed thanks to Children in Need.
The show also includes UK-wide highlights such as Sir Bruce Forsyth's long-awaited return to Strictly Come Dancing, and a new Tom and Jerry cartoon featuring presenter Sir Terry Wogan himself.
Pop group S Club 7 were reunited on stage for the first time since 2003, while One Direction performed from Albert Square.
During the day, BBC Scotland's Glasgow headquarters played host to charity events, including a children's dance workshop, primary school bagpipers, Gorbals Youth Brass Band and a staff dance-off.
A highlights show, broadcast on Saturday and presented by Jackie Bird, will feature an exclusive Still Game sketch starring some of the soap's most popular characters.
Last year's Children in Need raised over £2.3m in Scotland alone, with a record-breaking UK total of £31m.