School plan to share ideas 'is getting results'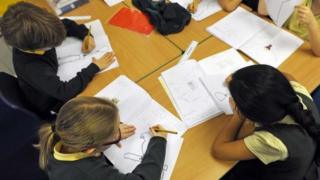 A scheme to allow schools in different parts of Scotland to learn from each other is starting to get results, according to new research.
The partnership improvement programme is designed to help boost pupils' performance and is particularly aimed at those from deprived backgrounds.
The idea is to give schools more chance to share ideas and good practice.
Education Scotland said eight partnerships have been established involving 13 local authorities.
The aims of the partnerships include trying to create leadership and learning opportunities for staff.
There is no hard evidence yet that these partnerships are helping children perform better academically, but the anecdotal evidence seems positive.
The Robert Owen Centre for Educational Change at Glasgow University has been assessing how partnerships are developing.
Early stage
Prof Chris Chapman, from the centre, said: "Although this programme is at an early stage of development, we are already beginning to see benefits from using collaborative inquiry-based approaches across classrooms, schools and local authority boundaries.
"So far the programme has supported opportunities for leadership development and professional learning.
"However, perhaps most importantly, the programme has increased teachers' awareness of and focus on improving teaching and learning of children from disadvantaged backgrounds."
He added: "Put simply, the emerging evidence suggests that with careful nurturing and appropriate support, these partnerships have the potential to significantly improve educational outcomes for disadvantaged children in Scotland."
Programmes like this tap into efforts to improve attainment in education and ultimately help more youngsters from disadvantaged backgrounds achieve their potential.
This involves joined-up thinking: getting more disadvantaged pupils to college or university involves improving their performance at secondary school which, in turn, is influenced by how well they master the basics at primary.
Increased confidence
One of the partnerships involves schools in Edinburgh, Angus and South Ayrshire. It is seen as a long-term project.
Douglas Hutchison, from this partnership, said: "This has been a very valuable programme that builds on our awareness and understanding of the impact of deprivation on education.
"Our teachers are benefiting from increased confidence and are engaged in more professional learning.
"Our young people have improved their self esteem and attendance is getting better - both of which make a real difference."
Education Scotland said it is confident that, over time, partnerships will make a significant difference.
Education secretary Mike Russell said: "Teachers are forming networks that support learning and teaching approaches to address inequality.
"By working together and learning from one another we can better support young people and their parents, ultimately improving outcomes for them."