Economists call for George Osborne to invest more in Scotland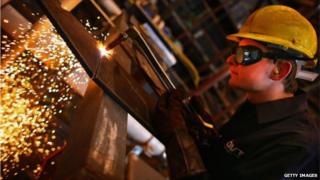 The Chancellor must invest more in Scotland to prevent its economy stagnating, according to economists.
The Fraser of Allander Institute said the Scottish economy showed "strong growth" in the first half of the year, but could be heading for a slowdown.
Falling unemployment and rapid job creation have seen GDP growth forecasts rise from 2.5% to 2.7% for this year.
But the institute said the prospect of further austerity measures meant the economy could be "on a knife-edge".
The findings were contained in the institute's first economic commentary since the independence referendum.
Brian Ashcroft, emeritus professor of economics at the University of Strathclyde, said: "We fear the recovery may soon be running on empty unless there is a new boost to demand."
He added: "With little or no growth in real wages, rising household debt and house price growth moderating, the drivers of consumer demand are weakening.
"Private investment is picking up but is still below its previous pre-recession peak.
"UK interest rates are low and in view of pressing infrastructure needs, now is the time for the Chancellor to step up to the plate and invest more in Scotland."
The institute has kept its GDP forecast at 2.2% for 2015, but has revised down for 2016 from 2.4% to 2.1%.
'Freedom to borrow'
Paul Brewer, of auditors PricewaterhouseCoopers (PwC) who helped produce the commentary, said the Scottish economy was "at a crossroads".
He added: "There is no one-size-fits-all economic policy answer to overcoming the slowdown in growth impacting Scotland and the rest of the UK.
"We need policies and powers to address territorial problems and opportunities and identifying those is one of the challenges facing the Smith Commission - for example, increased freedom to borrow."
He added: "As we move forward post-referendum to create a Scotland that is confident, competitive and bold, government in Westminster and Holyrood must look to the real benefits that further decentralisation can bring to Scotland and indeed to the other nations and regions of the UK."
A spokesman for the Treasury said Scotland is set to receive its share of a further £70bn of spending on UK-wide programmes.
They include "large-scale investment in electricity generation to 2020 and beyond", the rollout of superfast broadband and smart meters to support energy efficiency.
The spokesman said: "The UK government is strongly committed to improving infrastructure across the whole of the UK, including Scotland, and has made a series of significant investments in the devolved countries in order to achieve this."