School pupils 'don't have enough science equipment'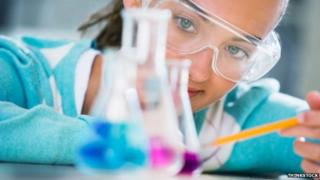 School pupils are not being given the science equipment they need, according to a group of professional bodies.
The group claimed the amount of money being spent on science teaching in Scotland is 25% less than in England.
Teachers in 85 primary and secondary schools took part in a study for the Learned Societies' Group (LSG) on Scottish Science Education.
The research also claimed it was not uncommon for teachers to spend their own money on normal school activities.
The group's findings suggested £7.33 was spent on every secondary pupil in Scotland, compared to £10 south of the border.
It came as councils seek to make fresh savings, raising concerns that overall education budgets are under pressure.
ANALYSIS
Jamie McIvor, BBC Scotland education correspondent
The claims by the Learned Societies Group come against wider concerns over education budgets.
Their argument is that to improve science teaching, the amount spent on science lessons needs to rise.
The challenge just now is that public spending is under pressure.
Councils run schools and set their education budgets. With council budgets under pressure for several years, options for substantial savings in education are being explored in many parts of the country.
With fixed budgets, if a council spends more on one thing there's less money for something else. In order to devote more resources to science teaching there would need to be cuts elsewhere unless the Scottish government chooses to provide more resources - and it too has a fixed income, for the moment, and spending priorities.
The LSG has called on the Scottish government to prioritise science, technology, engineering and mathematics education in primary and secondary schools.
The group's chairwoman, Prof Sally Brown, said: "Taking part in science practical work at school is an essential part of the learning process.
"It demonstrates the essence of science and the scientific method as it underpins the skills that young people need and the country is seeking.
"We have to ensure that their experiences at school are the very best and we know that much work has still to be done before this will be achieved."
'Range of support'
Concerns highlighted by primary school teachers included:
58% felt they did not have sufficient equipment
44% were dissatisfied with funding for science practical work
98% drew on additional funding sources for practical activities, with parental funding being most common for extra-curricular activities.
Secondary school teachers' main concerns included:
57% felt they did not have sufficient equipment
82% were not confident in sufficient resourcing for practical work over the next two years
98% drew on additional funding sources for practical activities, with teachers being the most frequent contributors.
A Scottish government spokeswoman said decisions on resourcing "are for education authorities and their schools".
The spokeswoman added: "Local authorities will prioritise funding to meet local needs and allocate budgets accordingly.
"We are providing a range of support to both primary and secondary schools to deliver science within Curriculum for Excellence, including giving the Scottish Schools Education Research Centre additional funding for a programme of professional learning for teachers, which offers support for practical activities."