Scotland 'snubbed' in EU fishing talks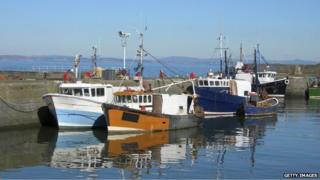 Sending a Conservative peer to represent Scottish fishermen at EU talks is a "slap in the face" for Scotland, the country's fisheries minister has said.
Richard Lochhead argued that he should have been allowed to stand in for UK Environment Secretary Liz Truss, who is unable to attend the meeting.
But the UK government has instead drafted in Lord de Mauley.
Two-thirds of the UK's fishing industry is based in Scotland.
Monday's talks in the Belgian capital are to focus on quotas for deep sea stocks, which disproportionately affect Scottish trawlers.
'Bit of a snub'
Speaking from Brussels, Mr Lochhead told BBC Scotland the UK government had agreed in 2010 that, when circumstances were appropriate, Scotland could lead at European fishing talks when the subjects up for discussion were primarily Scottish.
He added: "Yet here we are in a situation today where the UK secretary of state is in Brussels but she thinks she has got other things she wants to do other than attending the council.
"So she has drafted in Rupert Ponsonby, the seventh Baron de Mauley, from the House of Lords to represent the UK even although I am here. I think that is a bit of a snub for Scotland and a slap in the face.
"I have now got to sit down with Lord de Mauley and brief him in what's important for Scotland, explain to him the background, the circumstances. I have to hope he'll take that on board as he leads these talks."
Mr Lochhead has been Scottish fishing minister for the past seven years, which he said probably made him the "most long-standing minister in the whole of Europe".
He pointed out that Scottish boats last year landed 95% of the quotas that will be discussed at the Brussels talks, and added: "You couldn't have a more Scottish issue. The Scottish minister is here, the circumstances are very appropriate and yet the UK government is taking this ridiculous decision to draft in an unelected member of the House of Lords.
"Surely I am much better qualified to sit at the top table and discuss those issues than a minister who has got no fisheries experience whatsoever."
Lord de Mauley is parliamentary under secretary of state for natural environment and science and is responsible for the business of the Department for Environment, Food and Rural Affairs (Defra) in the House of Lords.
Mr Lochhead and UK fisheries minister George Eustice attended the last meeting of the Agriculture and Fisheries Council in October, where a rule change was agreed allowing fishermen affected by the Russian food export ban to bank a quarter of their mackerel quota for use in 2015.
In a letter sent to the prime minister over the weekend, Scottish First Minister Alex Salmond said it would be a "travesty" and "a recipe for further failure in Europe" if the industry was represented by Lord de Mauley rather than Mr Lochhead.
Mr Salmond wrote: "In 2010 both you and the foreign secretary agreed that it is reasonable, given Scotland's overwhelming interests in fisheries, that Scottish ministers could speak for the UK delegation.
"The Memorandum of Understanding agreed between our governments in 2013 also makes provision for Scottish Ministers to lead discussions in the council where an issue is of greater relevance to Scotland than the UK as a whole.
"It is true that the agreement you made has been breached by your ministers more often than it has been honoured. This is an opportunity for you to see that it is fulfilled and to demonstrate the commitment to the UK as a partnership of nations that you set out during the closing stages of the referendum campaign."
'Best deals'
Responding to Mr Salmond's letter, a Downing Street spokesman said: "The government takes its responsibility to act for all parts of the UK extremely seriously. Our ministers put our country's interests first and foremost in all they do.
"We have consistently and successfully worked with the Scottish government to argue for and to secure the best deals for our fishing industry. Their hand is strengthened by being part of the UK."
And the Conservative MEP Ian Duncan said he was "frustrated by the ongoing posturing" of the SNP over fishing.
Mr Duncan added: "Mr Lochhead is part of the UK delegation attending the fisheries council today. Following that council meeting, he will be attending a meeting with the incoming fisheries commissioner Karmena Vella.
"Mr Lochhead is disingenuous to suggest that he has no real influence. It is Mr Lochhead's responsibility to ensure that the UK's final negotiating position is as Scottish as it can be, nobody else's."
But Scottish Labour's fisheries spokeswoman Claire Baker said: "It's not often I agree with the SNP but on this occasion they've got a point. Sending a junior minister from the House of Lords, with no knowledge of the subject, to lead on important discussions about deep sea fishing quotas which mostly affects Scotland is difficult to understand when a Scottish minister who regularly attends these talks is already in Brussels."