Island challenge for paralysed castaway Brian Thompson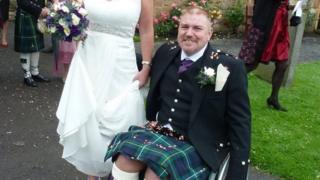 Brian Thompson dives in his spare time. He's spent two nights living in a tree, driven from Cape Town to Kenya and is about to spend a week as a castaway on Fidra island, all for charity. He's also paralysed from the waist down.
"People still think that if you're in a wheelchair that kind of defines what you are," says 47-year-old Brian.
But ever since an accident left him paralysed in 2001 - he was fixing a truck in Africa when it collapsed on top of him - he's been determined to push his boundaries.
"I think (my wife) thinks I'm a bit bonkers for doing this sort of stuff," he says. "But it's what makes me tick… because otherwise you just sit in the chair. You've got to drive yourself a bit more. It's a determination and a kind of dogged stubbornness."
'Total isolation'
This year, he's embarking upon one of his most ambitious charity endeavours yet: living as a castaway on the uninhabited island of Fidra in the Firth of Forth for a week, to raise money for Children in Need.
A team will help him travel to the island, get off the boat and do a quick communications check - and then he'll be alone.
Brian, who is from North Berwick, will be living off a diet of tea, hot chocolate and maybe packet soup, if he's lucky. His pain medication means he has to eat a certain amount, but he wants it to be "as basic as possible", for the authentic castaway experience.
"I respectfully ask to be left in total isolation for the duration of the challenge," he urges solemnly on his JustGiving page. "Please do not attempt to rescue me with the allure of Tennants, cream cakes or curry."
But the weather is proving problematic. Brian was supposed to start his challenge on Thursday, but the elements mean it's too dangerous to get to the island. So he's waiting at home - tent packed, ready to go - for Saturday, when he hopes to get out to Fidra.
Garden forks
It's not the first time the weather has got in his way.
Brian used to run up North Berwick Law for charity before his accident. As his 40th birthday approached, he thought he'd like to get up there again.
So he used garden forks to hoist himself up - then camped overnight and had a party. It was all to raise money to buy equipment for a local rugby player who broke his neck. Brian wanted to paraglide off the top the following day, but the weather foiled his plan, so he had to settle for being carried down.
For Brian, the support of his friends and family is vital. For this challenge, his communications team is made up of just his wife and her iPad. His mother, father and brother are also incredibly supportive.
"You can't do these sorts of things alone, being in a chair. You need a team round you." Brian gives the example of someone offering to lift him on top of a sand dune to see an amazing sunset. He could refuse, but then he'd miss the view.
By hook or by crook
In the aftermath of his accident, when he was being pumped with morphine in hospital, he says the dark humour of his parents meant that there was laughter in "a very dark time."
"I never thought, well, that's the end of my life," Brian says. "But obviously I thought: my life is going to be irreparably changed."
But Brian's determination remained unchanged: as soon as he got back to Glasgow, he started planning his next trip to Africa.
Over a lot of sleepless nights, he scribbled his plans down on paper. In 2003 - just two years after his accident - he shipped a converted Land Rover over from Scotland, and went back to Africa. He drove from Cape Town to Kenya to raise awareness for Spinal Injuries Scotland.
For now, the determination that got Brian up North Berwick Law with only the aid of gardening forks is concentrated on getting to Fidra. "We're gonna get on, by hook or by crook," he says.
It's not hard to believe him.