Firefighters called out to 507 bonfires across Scotland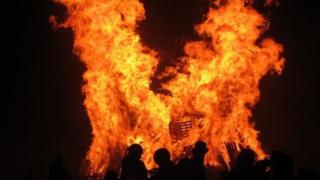 Firefighters in Scotland responded to more than 1,100 incidents during bonfire night.
Crews from the Scottish Fire and Rescue Service (SFRS) were called out to 507 bonfires.
Many of them were unsupervised with officers warning they could have put nearby buildings at risk.
More than 30 firefighters also responded to a blaze in a wood chipper in Cowie near Stirling.
Traditionally, there are four time as many call-outs on 5 November than any other night of the year.
Asst Chief Officer Lewis Ramsay praised the public for keeping the number of bonfire-related incidents down.
Protecting communities
He said: "Responsible citizens have certainly played their part in protecting communities throughout Scotland.
"Along with our partners in the police and local authorities, we have been actively working to raise awareness of the risks posed by fireworks and careless and poorly-built bonfires.
"The fact is that every year these result in someone being hurt and the consequences for the person and their families can be devastating."
There were a small number of minor attacks on SFRS crews which included verbal abuse and missiles thrown at appliances.
No one was injured in the incidents.
ACO Dave Boyle added: "Attacks on emergency responders are completely unacceptable and I am sure the public would be outraged by the small number of incidents where their firefighters have been targeted while working to protect people and property."