More drink-drive offences warning ahead of new limits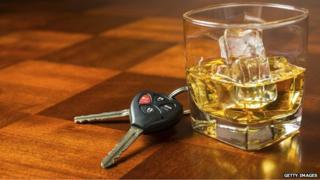 An additional 35 drivers a week could lose their licences over the festive period once new alcohol limits come into force, Police Scotland has said.
Last month, Justice Secretary Kenny MacAskill set out plans to lower the alcohol limit from 80mg to 50mg in every 100ml of blood.
The move has been backed by MSPs on Holyrood's justice committee.
Ahead of an awareness campaign next month, police warned there would, in effect, be "no safe limit" for drivers.
Justice committee members agreed the changes should go ahead after hearing from both Mr MacAskill and senior police officers.
Now the proposal will be voted on by the full chamber at the Scottish Parliament, with the new limit expected to come into force on 5 December.
So far this year more than 3,000 people have been caught driving over the limit.
'Clear message'
Ch Supt Iain Murray said: "Drink driving causes significant impact on families and our local communities not just at Christmas but throughout the year and the proposed changes send a clear message that there is no safe alcohol limit for drivers.
"We know from our figures that we can anticipate an extra 35 drivers a week losing their licence over the festive period following the changes to the limit.
"Our advice to all drivers is don't risk it. Even at the new levels you will still be three times more likely to die in a collision than without any alcohol at all."
Last Christmas, 434 drivers were caught driving while under the influence of drink and more than 100 others received warnings.
Ch Supt Murray added: "Sadly there are still too many drivers willing to risk their own lives and the lives of others.
"We welcome the proposed changes to the law which will help keep people safe and send a clear message to drivers about the risks."