The Moss Boss and Scotland's species champions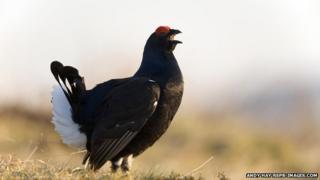 The black grouse now has its own political representative at Holyrood. And it's not alone - a range of species, from whales and wildcats to butterflies and moss, have been adopted by MSPs as part of the species champion initiative.
Ken Macintosh is the one of the latest of 71 MSPs who have taken on the cause of 85 endangered species through the scheme, which is run by Scottish Environment Link's wildlife forum.
But who are they, and which species are they sticking up for?
The newcomer
Mr Macintosh, the Labour MSP for Eastwood, is one of the newest MSPs to become a species champion.
He says he is conscious that he has become "a townie at least one step removed from our fantastic natural environment and wonderful wildlife".
His adopted species, the black grouse, has been described by the RSPB as "a potent symbol of the way in which land use changes in the uplands have affected biodiversity".
The appropriation of rough grazing land by agriculture, heavy grazing by rabbits and deer, and drainage of land that previously provided food for the birds have all contributed to a steady decline in their population.
Furry friends...
Initially, Link let MSPs chose their own species - sparking a "real battle" for the red squirrel and the wildcat.
The red squirrel was adopted by SNP MSP Aileen McLeod.
"I was delighted to have the chance to become the red squirrel champion, not least because I have always liked them and think they are particularly beautiful creatures, but also because they are under real pressure as a species from grey squirrels and squirrel pox," she says.
"I think it's a combination of their colour and their attitude which makes them so attractive."
… And scaly ones
Link says that it's not just the "cute and cuddly" species that get adopted - slimy and scaly ones also have their fans.
It's not often you would see a politician willingly associated with a snake, but the SNP's Joan McAlpine has become protective of the adder.
"Froglife, who work to preserve amphibians and reptiles, asked MSPs to champion a creature each," she says.
"But, surprise, surprise, the poor wee adder didn't get any takers. Perhaps MSPs were too scared of headlines about spitting venom."
Political champions
The species that are "a bit harder to love", apparently, are mainly flowers, lichen and fungi. Not so for the SNP's Rob Gibson - who has become known as the "Moss Boss" for his work to secure conservation efforts for the rusty bog moss.
It is a key building block of the blanket bog that makes up the Flow Country in his constituency of Caithness and Sutherland.
It has been described as the northern hemisphere's Amazon rainforest, and Mr Gibson jumped at the chance to become the official champion for the moss
"It was the logical choice considering the importance that it plays in my constituency as well the world," Mr Gibson says.
"So whilst many MSPs went for iconic or cute and fluffy animals to champion I thought it was important that they had something to sit on!"
He's not the only one who has a particular interest in indigenous vegetation. Lib Dem MSP Liam McArthur fights the corner of the Scottish primrose due to their prevalence in his constituency, Orkney.
He has lodged a motion at Holyrood entitled "In Praise of the Primula Scotia."
The Conservative MSP Mary Scanlon, meanwhile, was the first champion to secure a full member's debate on her species, the freshwater pearl mussel.
She was asked to champion the species, and jokes that she thought "it was perhaps due to my party's affection for twinsets and pearls".
While she initially knew nothing about them, Ms Scanlon says she's now become "quite the anorak" on the topic, adding: "I think that because you can't see them, you really have to fight for them."
For some MSPs, their choice of species came directly from constituents.
Jim Eadie champions the water vole and the hedgehog - the latter came about after a request from a schoolgirl constituent of his, who had never seen a hedgehog in real life.
Memory Lane
Some have chosen their species for more sentimental reasons.
Patrick Harvie, co-convener of the Green Party, told Link that one reason for his choice of the minke whale was that he remembers his parents pushing him in his pram while going on demonstrations wearing Save the Whales t-shirts.
His colleague Alison Johnstone's choice of species, the brown hare, also has personal connotations - the brown hare is known for its speed, and Ms Johnstone is a former East of Scotland 800m and 1,500m title holder, and a qualified UK Athletics coach.
"They are truly amazing creatures, and have suffered badly over the years due to declining green space and changing farmland practises," she says.
For Dave Thompson, the sandeel brings back memories of his childhood - he used to see them frequently at Lossiemouth East Beach.
"I was always fascinated by how beautiful they were when you looked at them up close," says the SNP MSP.
"If you attempted to get near them, they would disappear into the sand."
All creatures great and small
Many have more than one species that they champion - the SNP's Kenneth Gibson chose one of the biggest and the smallest species on offer when he became champion for both the blue whale and the lesser known pearl-bordered fritillary, a small butterfly.
"What struck me about both... is that while they seemingly have nothing in common, what they do share is vulnerability; vulnerability to man's selfish and often unthinking destruction of their habitats," he says.
Labour's Claudia Beamish wears a scarf - designed by a high school student - inspired by the patterns on one of her species, the Forrester Moth.
"The Forester moth is a particularly interesting species as it is a beautiful emerald green colour and they can only survive in a specific habitat of dappled sunlit glades connected to wetlands, which are also under threat from climate change," she says.
A quick look at the list of species championed by MSPs pays testament to Scotland's fascinating and varied wildlife.
However, the SNP's Christine Grahame chose a bird that most of us might see on a daily basis - the house sparrow.
Her friendship with the bird starts at home - she feeds the 20 or so that live in her garden on a diet of fat balls, peanuts and seeds and says it's "no wonder they are staying put!"
"I chose the house sparrow because we take it for granted, and in some places it is in decline - but not in my back garden!" she adds.
She is also known to recite poetry in their honour.