Exploring the lure of Edinburgh's dark tourism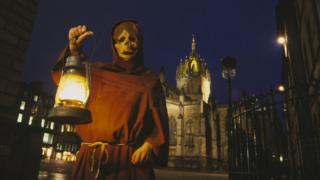 Candle-lit, yet oppressively gloomy. Eerily quiet apart for the odd rustle of a carrier bag and nervous coughs, Disneyland it is not. Whether you're a believer in ghosts or an arch cynic, it's hard not to find the Blair Street Vaults creepy.
As the guide, Miriam, recounts sinister happenings and ghostly sightings, a woman rushes out, too unnerved by the whole experience to stay any longer.
"I could feel something. I'll be OK, but there was definitely something there."
The Vaults, curated by Mercat Tours and based in the centre of Edinburgh's old town, are part of the city's mighty tourism machine.
Second only to London as a UK tourist destination, 3.5 million people flocked to Edinburgh last year and the more sinister side of the city is a draw for many of them.
Suffering and pain
The notion of dark tourism, however, is not unique to Edinburgh. It is a worldwide phenomenon and the phrase was first coined by professors John Lennon and Malcolm Foley back in 1996. It describes visiting places historically associated with death and tragedy.
Prof Lennon, vice dean of Glasgow School for Business and Society at Glasgow Caledonian University, says there is an attraction around sites that have witnessed suffering and pain.
"It appeals to the darker side of human nature," he says. "As humans we're all going to face death at some stage, so death is a part of our life that is inherently common to all of us and that we're fascinated by."
In Edinburgh, it's nigh on impossible to walk down the Royal Mile without bumping into a ghost walk or a Burke and Hare tour. Our appetite for gore is seemingly insatiable.
According to Prof Lennon: "The problem the angels have is that the devils are more interesting."
Even attractions not specifically aimed at the dark tourism market manage to fit in a healthy dose of death and despair.
The Real Mary King's Close, a warren of underground streets, is ostensibly a tool for teaching social history but unsurprisingly packs in murders, plague victims and executions.
And then there is Little Annie. In the early 1990s a Japanese psychic, Aiko Gibo, claimed she saw the spirit of a 10-year-old girl named Annie, wearing a dirty white dress and boots.
She said Annie was upset about losing a doll so Aiko bought her a new one. Since then visitors have left toys in what's become known as the Shrine Room.
It is as if Edinburgh was built for chilling journeys of discovery. Shirley Suliman, general manager of Mercat Tours, believes Edinburgh's long, violent past creates a ready-made dark tourism template.
"It's the gruesomeness that attracts people and we've got it all going on," she says.
"The fact is, our history is really gory, from grave robbers to torture, the Iron Maiden on the Grassmarket to murder at Holyrood Palace.
"Sometimes fear is generated by something more subtle than blood and guts and, down in the Blair Street Vaults, the simple lack of light is enough to get hearts racing.
"People are frightened of different things but it doesn't matter where you're from in the world, we're all afraid of the dark."
As night falls on Chambers Street, that statement rings truer than ever. The inherent spookiness of a gloomy autumnal evening is the backdrop to the Necrobus tour.
The vehicle is a 1960s Routemaster bus, painted black and transformed into an oversized, mobile sarcophagus. It chugs through the streets, on-board speakers throbbing in time to conductor Jasper McLintoch's portentous tones.
"I'm sure you'll all have fun. We all like being scared, don't we? Now round this next corner, something particularly terrifying happened 200 years ago..."
In 2013 a sixth of overseas visitors to Edinburgh were from the US and a group of North Americans make themselves comfortable on the top deck of the Necrobus. Lisa from California is a fan of haunted houses and is hopeful of seeing a ghost.
"You don't know if they're real or not, you don't know where you're going to find them. It's just creepy, scary and exciting all at the same time."
In fact, it seems the only certainty in this twilight world of death, destruction and hauntings is that the dark tourism industry will continue to flourish.
It's only human nature after all.