Million pound grant for National Museum of Scotland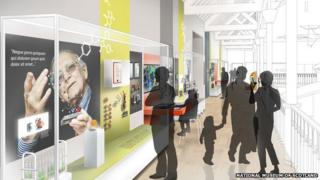 The Wellcome Trust is giving £1.3m to the National Museum of Scotland to help fund six new science and technology galleries, to open in 2016.
The development is the third stage of an £80m plan to restore the Victorian building in Edinburgh.
The Wellcome Trust support will focus on biomedical science, including genetics and prosthetics.
The six galleries are part of a £14.1m project to display National Museums Scotland's various collections.
The aim is to make the museum an international hub for science communication and dialogue.
Scottish stories
The new galleries will use real objects to tell the stories of scientists, technologists and engineers, including those with Scottish connections.
The emphasis on biomedical science will address the science of genetics, including Dolly the sheep.
Advances in prosthetics, body implants and new pharmaceuticals - including the work of Scottish pharmacologist and Nobel Prize winner Sir James Black, who developed beta blockers - will also be addressed.
The galleries' content is being guided by a science advisory panel of independent experts including Professor Sir John Savill, vice principal and head of the University of Edinburgh's College of Medicine and Veterinary Medicine, and chief executive of the Medical Research Council.
The galleries include content for families and schools, who will be able to participate in workshops and online learning programmes. Senior pupils considering scientific careers will be able to gain access to scientists and industry specialists.
The Learning Centre will host science-based events including debates and talks in which experts will discuss their research and explore current science-related issues.
The grant will fund part of a project to provide 10 new galleries for National Museums Scotland's collections of science and technology, decorative art, design and fashion.
Over 3,500 objects will be put on show and display space for the exhibits will increase by more than 40%.
The project will be funded by the Heritage Lottery Fund, the Scottish government and other grants and donations. National Museums Scotland is working to secure remaining funds for the galleries' 2016 opening.
The second phase of the £80m plan to restore the National Museum of Scotland was completed in 2011, when 16 new natural world and world cultures galleries were opened.