Armed Police Scotland policy backed by independent report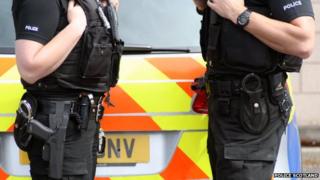 The independent inspector of constabulary has backed Police Scotland's policy of allowing a small number of officers to carry firearms while on routine duties.
However, Derek Penman criticised the force for failing to consider the way the public would view the policy.
He said more could have been done to explain it to local communities.
Following a backlash, Police Scotland has since changed the way armed officers are deployed.
Earlier this month the force said armed response officers would now only be deployed to life-threatening incidents or those involving firearms.
It had previously allowed 275 ARV (armed response vehicle) officers to routinely attend non-firearms-related incidents.
Threat levels
In his report, Mr Penman, the HM Inspector of Constabulary in Scotland, agreed there were operational needs, based on intelligence and threat levels, for ARV officers to have their firearms overtly displayed.
But he said Police Scotland underestimated the impact of its policy which led to heightened political and public debate over armed policing in Scotland.
There was an outcry from some MSPs and community groups after armed officers were seen attending routine incidents such as traffic collisions and minor crimes.
There was particular concern in the Highlands and Islands, an area with a low crime rate, after officers carrying handguns were seen on routine patrols in Inverness.
Councillors in the Highlands and Borders raised objections, along with opposition MSPs.
'Helpful watershed'
Mr Penman said: "The operational need for the standing authority is justified by national intelligence and threat levels and that overt carriage of the hand gun and Taser is the best and safest method of carriage for officers crewing an ARV.
"The report points out that following reform of Scottish policing, there has been more equitable access to an armed policing response and the number of trained firearms officers has actually reduced overall.
"However, it also states the impact of the policy change on public perception was not fully considered by Police Scotland nor has there been a full and informed debate around the deployment of firearms officers to incidents and duties that do not require a firearms response."
Vic Emery, chairman of the Scottish Police Authority, said: "We welcome publication of the findings of the HMICS review, which will inform the SPA's own scrutiny inquiry into the impact of the standing firearms authority.
"I believe there has already been a general acknowledgement within policing that communications around this issue could have been improved.
"SPA sees the publication of this report as a helpful watershed between identifying various gaps and grey areas of the past, and looking forward to embedding the further lessons of this in improved policy consideration and decision-making in the future."
He said the SPA's call for evidence had already received almost 200 submissions and the findings of its inquiry would be presented in December.
Assistant Chief Constable Bernard Higgins, Police Scotland's lead on operational support, said: "Having a small number of armed police officers available means we can retain our operational flexibility and ensure that more than 98% of our officers remain unarmed but we remain best placed to support the public, no matter where or when."
Scrutinising policies
He added: "We have already committed to reviewing our guidance to armed officers when not deployed to firearms incidents and on the types of carriage for firearms and Tasers and we are also reviewing how we can improve our engagement with communities."
Councillor Harry McGuigan, community wellbeing spokesman for council umbrella group Cosla, said: "I welcome the focus on localism within this report which continues HMICS's commitment to ensuring that Police Scotland and the SPA take local considerations into account with regard to national policing policies.
"It is crucial that councils' legitimate interest in scrutinising national policing policies is recognised but those roles and responsibilities need to be clearer.
"At the end of the day, every national policy Police Scotland implements impacts upon local communities."
He added: "I would be disappointed, however, if the report implied an acceptance that police officers may reasonably be required to perform routine duties while carrying firearms."
A Scottish government spokeswoman said: "We welcome this HMICS report which should provide further reassurance for the public about policing in Scotland."
She said the report showed that Police Scotland had complied with all relevant national armed policing guidance and added that only 2% of the total number of officers in Scotland had a standing firearms authority.
"We await with interest the SPA scrutiny work which will concentrate on community engagement," the spokeswoman said.