Man detained by police after Edinburgh incident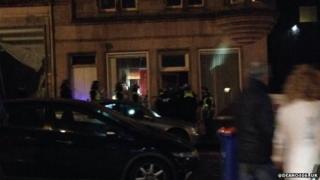 A man has been detained after an incident in Edinburgh which led to part of the city centre being cordoned off for several hours, police have said.
Officers investigating a motorbike theft were called to reports that the suspect was on a roof in Cockburn Street at about 22:00 on Saturday.
Fire crews joined police as a search of the building began.
Police Scotland later said that a man had been apprehended but officers were still looking for the alleged thief.
Supt Angus MacInnes said: "At no time during the incident on Cockburn Street were the public in any danger.
"We are aware of speculation on social media sites that this incident involved firearms, however, I can categorically state that was not the case.
"At no time was this a "firearms incident" and no firearms officers were deployed to the scene."
Witnesses on social media reported seeing the police helicopter circling above the Scottish capital's Old Town, and told of serious traffic delays.
Police Scotland said its helicopter was sent out to assist in their search and streets were cordoned off as a precaution.
Supt MacInnes said: "The use of the police helicopter and a small number of officers with shields was simply about ensuring a safe and co-ordinated apprehension of the suspects.
"There were clear risks and challenges due to the height and size of the building and our response aimed to manage the risks and to ensure the safety of everyone involved."
The Scotsman newspaper said that its former office at 30 Cockburn Street had been searched by officers.
The paper reported that 50 police officers carrying riot shields attended the scene, as well as fire engines.
Lindsay Barkley, who lives opposite the building, told the BBC officers cordoned off the area with security tape and told people it was not safe to be in the street.
She had noticed a man inside the building before the police went in.
"They were thinking of breaking down the door, but then they seemed to get the keys," she added.
"They all put on their riot gear and went in, one with a sniffer dog. They searched floor by floor."