Violent attacks on public service workers up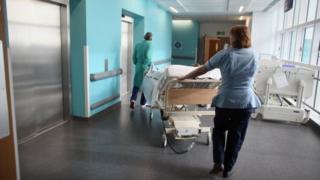 Violence against public service workers in Scotland rose again last year to more than 100 attacks every day.
A total of 37,052 incidents were reported to employers - up by 3,363 on the previous 12 months and by 17,000 since records began in 2006.
Unison's Scottish organiser Dave Watson described the attacks as "completely unacceptable".
He will present the union's annual survey of violent incidents to a health and safety conference on Friday.
Mr Watson will use the Stirling University conference to highlight assaults on council workers, who have suffered four out of five austerity job cuts in Scotland.
They have seen a year on year increase in violent incidents of 850, bringing the total to 15,729.
Mr Watson said: "These statistics record reported incidents and are therefore only the tip of the iceberg of misery faced by workers across Scotland's public services.
"The biggest increase in violent incidents is happening in those services that have suffered staffing cuts.
"Workers are stretched too thinly, dealing with service users who are coping with cuts in the services they rely on.
"This is a toxic cocktail that is putting hard-pressed workers at greater risk of violent assault."
'Better legal protection'
Scott Donohoe, chairman of Unison Scotland's health and safety committee, called for better legal protection for workers in the civil and criminal courts.
There were 330 convictions under the Emergency Workers Act last year.
But critics have said that due to the "limited scope of the Act", few violent incidents result in criminal action.
A Scottish government spokesman said justice agencies were already taking "tough action" against attacks on council staff and other public service workers.
The spokesman added: "We agree that all workers, whether they deal with the public or not, should be able to go about their daily working lives without the threat of attack.
"That is why there is already protection in place under Scotland's common law of assault, which offers maximum penalties of up to life imprisonment and unlimited fines.
"This gives the police, prosecutors and courts the tools to ensure those who attack public-facing workers can be dealt with appropriately and effectively.
"More people than ever before are being convicted under the Emergency Workers (Scotland) Act 2005 with the penalty up to 12 months imprisonment, a £10,000 fine or both."
Unions have also accused the UK government of "undermining protection for workers" with cuts to the Criminal Injury Compensation scheme.
In response the Ministry of Justice said it was determined to provide the best support for victims of crime, but funded by offenders not tax-payers.