High Street sales in September at 'poorest' level since records began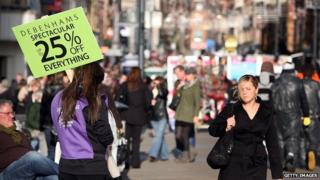 Scotland's high streets have suffered their poorest sales figures for September since records began.
The latest official statistics showed total sales dropped by 2.9% compared with September 2013.
Food sales were down 2.4%, while non-food sales decreased by 3.3% on the previous year.
Analysts have blamed uncertainty over the independence referendum and unseasonably warm weather for people staying away from the shops.
David Martin, of the Scottish Retail Consortium, said: "September was a challenging month for retailers with a combination of factors contributing to the weakest sales performance since January 1999, excluding Easter distortions.
"Despite improved levels of footfall due to the Ryder Cup and other events, demand remained weak for fashion items - particularly boots and coats.
"The intense competition in the grocery market, whilst benefiting Scottish consumers through lower prices, continued to have an impact on sales."
David McCorquodale, head of retail at KPMG, predicted the build-up to Christmas would see a spike in sales.
He said: "Whilst this month's sales figures set some weakest performance records, I see this as more of a disappointment for retailers battling against circumstances rather than a trend.
"There's no denying that the continued decline in food sales is reflected in the challenges facing the grocery sector up and down the UK."
Job security
He added: "Fashion and footwear retailers suffered in the rest of the UK from warm weather but Scotland's worse performance was probably exaggerated by other distractions.
"The referendum is behind us and some uncertainties out of the way. The focus for the retail sector is now on the two months leading to Christmas.
"The confidence and job security of the consumer will also play its part."
Meanwhile, Scotland's levels of "business distress" saw a fall in the last quarter, beating the UK average.
Scotland's firms showed instances of "significant financial distress" - the signals that indicate the early signs of financial trouble - falling by 3%, compared to the UK average rise of 1%.
More serious instances of "critical business distress" fell by 11%, according to research by Begbies Traynor Red Flag Alert.
Spokesman Ken Pattullo said: "The slight falls are somewhat accounted for by seasonal averages.
"We just hope that the impact on retailing that was the biggest factor in the statistics can be put down to unusual weather, as it was largely attributed elsewhere in the UK."