Scottish university staff back industrial action over pensions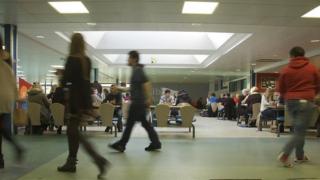 University staff at several Scottish institutions have backed industrial action in a row over pensions.
The University and College Union (UCU) balloted members across the UK.
It said more than three-quarters (78%) of those who voted supported strikes, while 87% were in favour of action short of walkouts.
UCU members at nine Scottish institutions, who are in the Universities Superannuation Scheme (USS), were among those balloted.
The union said the industrial action could include marking boycotts - a move that could potentially affect hundreds of thousands of students.
Turnout for the ballot was 45%.
'Radical changes'
The Scottish institutions where UCU members were balloted were Aberdeen, Dundee, Edinburgh, Glasgow, Heriot-Watt, St Andrews, Stirling, Strathclyde universities and the Scottish Association of Marine Science, part of the University of Highlands and Islands.
The union said proposed changes to the USS had been prompted by an expected deficit in the pension scheme, but it claimed the process used to work out the deficit was too simplistic and did not take into account the strengths of the scheme.
UCU said talks were planned with university employer representatives on Wednesday, and if the proposals continue to go ahead then union officials will meet on Friday to discuss what form the industrial action should take.
The ballot informed members that voting for action would most likely lead to a marking boycott and refusal to set exams, the union said, which would mean students would not be set coursework, have work marked or receive feedback. It could also halt exams.
UCU Scotland official Mary Senior said: "UCU members have made it quite clear today that they reject the radical changes being proposed for their pensions.
"We will go into talks on Wednesday hopeful that we can resolve the current impasse.
"However, we will go into that meeting with a serious mandate from members that they need to see real improvements."