UK human trafficking strategy agreed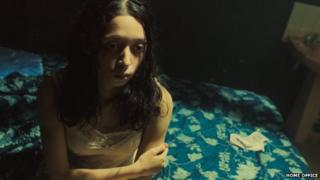 Top prosecutors from across the UK and Ireland have pledged to work together to tackle human trafficking, described by one as "the slavery of our times".
The heads of prosecution services in Scotland, England, Wales, Northern Ireland and the Republic of Ireland met amid a rise in reported cases.
The UK and Scottish governments were also represented at the summit, held at the Scottish Parliament in Edinburgh.
There was also a focus on identifying the signs of human trafficking.
In September the National Crime Agency said the number of potential victims of human trafficking in the UK increased by 22% between 2012 and 2013, with 55 cases identified in Scotland.
Across the UK, it is estimated that 2,744 people, including 602 children, were potential victims of trafficking last year.
Almost a third of the victims in Scotland suffered sexual exploitation, while others experienced labour exploitation and criminal exploitation.
The agency said victims came from countries including Poland, Slovakia, Thailand, Vietnam, Ghana and Nigeria.
Romania was the most common country of origin, with nine cases in Scotland.
Scotland's senior prosecutor, Lord Advocate Frank Mulholland, who chaired the summit, said: "Human trafficking is the slavery of our times.
"It is a serious violation of human rights and causes lasting harm to its victims. Every year thousands of men, women and children are trafficked across the globe, including within the United Kingdom.
"It is a serious and complex crime which happens in the shadows of our society and it is very difficult for investigators and prosecutors to penetrate that veil."
One victim's story
"I believed I was going to be safe and have a good life here but when I came this was not the case. I was treated very, very badly.
"I was locked in a room and made to have sex with many men. They would come every day and make me do things I did not want to do.
"They never cared if I cried. They just carried on.
"The traffickers prostituted me for three months before I managed to run away and I still feel the pain now.
"It is in my heart and in my head."
Mr Mulholland added: "Traffickers do not respect borders or jurisdictions - today we agreed to work together as prosecutors to work across boundaries and rise to the challenges to disrupt this abhorrent trade in human beings and make the United Kingdom hostile to human traffickers."
Alison Saunders, Director of Public Prosecutions for England and Wales, said: "Human trafficking and slavery cases can be truly disturbing and often see victims taken advantage of in the cruellest fashion.
"We welcome the agreement reached at this summit, which will allow the heads of prosecution services across the UK and Ireland to share information about human trafficking and slavery and ensure that across the board we are responding robustly to this horrific type of crime."
Director for Public Prosecutions for Northern Ireland Barra McGrory added: "The PPS has already seen some of the real benefits of working collaboratively with all criminal justice agencies, both here and internationally in pursuing prosecutions.
"Today is a significant and important day in formalising our commitment to tackle human trafficking together."
Advocate General For Scotland Lord Wallace represented the UK government at the summit, which was also attended by Scotland's solicitor general, Lesley Thomson.
Human trafficking, which may be for the purposes of prostitution, labour and other forms of exploitation, carries a maximum penalty of 14 years in prison in the UK.
Britain is bound by the Council of Europe Convention on Action Against Trafficking in Human Beings, which involves signing up to a set of minimum standards on the identification, protection and support of trafficking victims.
Scottish Justice Secretary Kenny MacAskill announced in March he would be bringing forward legislation to tackle the problem in Scotland.
Labour MSP Jenny Marra, who had proposed her own bill on the issue, said: "Today's meeting was useful, but there is still no indication from the Scottish government when they will publish the Human Trafficking Bill."