Innocent victims: Life for children with mothers behind bars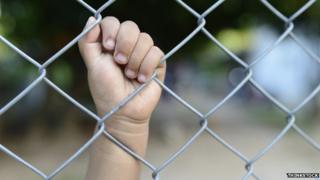 The Scottish Prison Service (SPS) has just announced a move to allow children of women prisoners extended "sleepover" visits at the new HMP Inverclyde facility. But what's life really like for the young people who are separated from their mothers by prison bars?
Kirsten Johnston is mum to two boys. When they were eight and three, Kirsten was sentenced to two years in prison for embezzlement. It was her first offence.
Kirsten spent two weeks in Cornton Vale, the infamous all-women's prison in Stirling, before being moved to HMP Greenock. Initially, she was put on suicide watch.
She served six months in prison. She rang her sons every day, and saw them when she could - in Cornton Vale this depended on how many prisoners wanted to use the family visiting facilities, in Greenock they would visit once a week.
Kirsten could have seen them for longer, but Greenock prison staff advised against it - male prisoners were in the visiting hall for the second half of the session and she got the impression from staff that it "wasn't advisable" for her children to be there at the same time.
General visiting times - when all visitors come at once - were hard. Drugs would be passed around before her children's eyes. "I felt very uneasy," Kirsten says. "You're waiting for something to happen. You don't want your family and your kids to be in that sort of environment."
Kirsten's boys would spend three hours in the car before they got to Greenock. When they arrived, they wanted to move around. But Kirsten wasn't allowed - she had to stay seated all the time.
Anxiety issues
When Kirsten was in Cornton Vale, her children thought she was in hospital for mental health issues, as she had been before. Indeed, many of the children of her fellow inmates had no idea their mothers were in prison. In Greenock, however, her children knew where she was.
"They took it in their stride," she says - but the effects were inevitable. "I called home one night and my eldest son was in a terrible state, he'd had a horrible nightmare. He said he'd been trying to get me out of prison.
"I tried to pacify him and say - 'It's just a silly dream, I'm not going to be here forever'. But then you put the phone down and you go back to your bed and you've got these thoughts in your head… it's just a horrible position to be in."
She can see the marks on her sons of six months without mum. Her eldest has had anxiety issues and her youngest has been questioning the experience in the last few weeks. "Why were you there, mummy?" he asks - or, "Remember, we used to go to that place to see you."
"I'm just honest with him," Kirsten says. "I try to explain it so that he understands. I just say: 'mummy did something she shouldn't have done and so she had to go there'."
Prison charity Families Outside estimates that 27,000 children in Scotland experience the imprisonment of a parent every year.
However, the SPS is only considering allowing children of female offenders to spend sleepover visits at HMP Inverclyde.
Tom Fox, head of corporate affairs at the SPS, said: "If a woman is in custody the impact on the family can be much more catastrophic.
"The overwhelming majority of female prisoners have some sort of family. You just need to take a walk round a wing - instead of seeing pin-ups of pop stars or women in bikinis, it's photographs of children."
'Innocent victims'
Children whose mothers are imprisoned tend to face greater challenges, because the majority of children are cared for primarily by their mothers.
"It's devastating losing any parent into the criminal justice system," says Sarah Roberts, child and family support manager at Families Outside.
"But if the mother's the primary care-giver then that is utterly devastating - because they're not just losing their mum but also their home, their care-giver, their family."
According to Families Outside, when a father goes to prison in Scotland, 95% of children remain living with their mother. But when a mother is incarcerated, only 17% stay with their father. The rest are sent to live with family or put into social care.
The psychological effects of losing a parent to prison are not unlike bereavement: loss, fear, anger, shock and sadness. But the added stigma and shame of having a parent in jail compounds these emotions.
Media representation can be particularly harmful. Sarah Roberts describes how one woman, convicted of drugs smuggling, was described by the press as "an evil monster". Her children read the article. "It was incredibly damaging for them," she says.
Tam Baillie, Scotland's commissioner for children and young people, agrees. "Children of offenders suffer ongoing trauma, loss and stress throughout arrest, trial, imprisonment and release," he says. "Publicly, they may be exposed to shame and bullying, while privately they cannot be comforted by the strength and love of the absent parent."
He recommends child impact assessment reports at the point of sentencing - so that children's wellbeing is taken into account before a mother's sentence is decided.
As it stands, children with a parent in prison are three-times more likely to have serious mental health issues than those in the general population.
Sarah Roberts says children need to be listened to and supported. "I think when a mother goes to prison, children are made to feel as if they've done something wrong or are from a 'bad family' - it's really important they hear the message that it's not their fault.
"The children have done nothing wrong. These are innocent victims every time."
Planning for the future
The situation for these children may seem bleak - but it's improving.
Some Scottish prisons already have mother and baby units, where young children can spend time with their mothers if she is the sole care-giver - and once the new Inverclyde prison and Edinburgh unit are built, all prisons will have the facilities.
Cornton Vale also has independent living areas outside the security perimeter of the jail. They house mothers with very young children who are nearing the end of their sentence.
There are positive parenting classes and "bonding visits" in many prisons - so children can spend time with their parents outside of normal visiting sessions. Every prison has a family contact development officer, responsible for helping inmates maintain healthy family relationships.
Sarah Roberts says the facilities for younger children have improved massively - even in men's prisons.
HMP Low Moss has homework clubs, where children visiting their fathers can engage with them in normal family activities. At HMP Addiewell, there are "Tune In" sessions, where dads can sing nursery songs in family groups.
What's lacking is more flexible arrangements for older children. "Visiting every weekend doesn't work with teenagers because they want to have their life but they desperately miss their mum," says Sarah Roberts. "So options like an overnight visit or a private family visit could be really helpful."
That's where the Inverclyde proposal comes in - it gives the opportunity for older children to stay with their mother on weekends or during school holidays.
"What we're trying to do is something that's beneficial to those in our care, but that's also beneficial to children," says Tom Fox. "If that positive relationship with the mother is maintained, future generations are less likely to find themselves caught up in the criminal justice system."
Following her own experience, Kirsten Johnston is unsure of the benefits of sleepover visits. "What would happen if a child got upset halfway through and wanted to go home?" she wonders.
But she agrees that longer, more family-friendly visits are the best way to keep families strong in prison.
A one-size-fits-all system is never going to be adequate when dealing with the myriad of issues faced by female offenders and their families.
The key, according to Sarah Roberts, is having a range of options - "so that young children can interact and older children can have the time they need in the way they need it".
She adds: "Then, the impact for young people, children and mums is huge. It's saying to mum: 'You're still a parent'. And what do we want when people come out of prison? We want them to be parents."