Barking the orders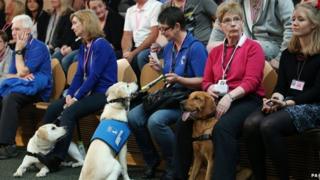 Never, goes the old theatre maxim, work with children or animals. Tricia Marwick, Holyrood's Presiding Officer, deals with childish behaviour on a daily basis. Today she coped admirably with an animal intervention.
In parliament today were Demi, Quaver, Hero, Iona, Warwick and Marco. They are guide dog puppies, there to garner support for that valuable service. As Ms Marwick welcomed them, one barked cheerfully. (My guess is Quaver, given the duration of the contented yelp.)
The PO smiled benignly. Labour's Johann Lamont joined in the fun, inquiring whether the chair would look favourably upon her too. (Depends, I suppose, on how good she is at helping folk over the road.)
Alex Salmond seemed more interested in the dog that didn't bark. The unexplained absence of Labour efforts, while in UK power, to change the rules on rail franchising. Mr Salmond was being pressed on the decision to give the Scottish rail system to Abellia, a Dutch public sector outfit.
Incidentally, they were formerly badged as NedRailways. Couldn't they be persuaded to bring that back, just for Scotland?
Labour accused the FM of letting Scotland down. Mr Salmond said the alternative, had he postponed the franchise, would have been a possible law suit - while leaving the trains in existing management for at least five years while an alternative system was sought.
On the subject of quiet canines, Gavin Brown of the Tories discerned another outbreak. The Finance Secretary, he suggested, was crowing gently about the help he was giving first time home buyers. There was, he suggested further, an eerie silence about those further up the housing ladder.
Not so, said John Swinney. He had explained in detail the consequences of his new Land and Buildings Transaction Tax. (Couldn't they get a snappier name? Maybe Abellia could help? HooseTax?)
The new tax replaces UK Stamp Duty. There are thresholds and bands - but you only pay the extra rate on the surplus above each threshold. So you only pay more than under Stamp Duty if your property prices at more than £325,000.
Ability to pay
What, Mr Swinney said to Mr Brown, did you think we meant when we told you that the planned new tax would be "progressive"? The minister insisted that 90% of folk would be better or no worse off under the new system. Mr Brown scowled quietly, perhaps thinking of the 10% and their possible voting inclination.
More generally, Mr Swinney was in the mode historical. This was, he said, the first time that a Scottish Parliament had been presented with tax proposals since before the Act of Union in 1707. That too had been about property tax.
His approach in resuming taxation had been drawn from Adam Smith, the sage of Kirkcaldy who set out a series of maxims in 1776 to the effect that taxes should offer certainty, convenience and efficiency while being proportionate to the ability to pay.
It was plainly Mr Swinney's intent to suggest that the founder of modern economics would have liked his style.
There was contention over the NHS. The Tories have previously pursued this and today Labour's Iain Gray said that the SNP had broken their promise to protect health service spending, amid the general search for economies.
Not so, said Mr Swinney. The pledge had covered revenue spending - day to day cash on frontline services. Not capital spending. He had met the pledge, he had added extra on this occasion - and capital investment was also covered by innovating funding mechanisms and, for the first time, borrowing under the power laid down in the latest Scotland Act.
Mr Gray looked disgruntled, like a dog deprived of a particularly tasty bone.