Fire service could be sent to save heart attack victims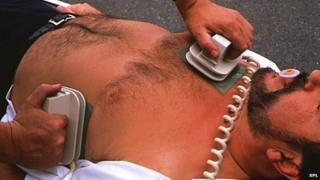 Co-operation between fire and ambulance services could save lives of many heart attack victims, a report has said.
The Chief Inspector of Fire Services (HMFSI) said appliances equipped with defibrillators could often reach a medical emergency before an ambulance.
He questioned why successful pilot schemes in Aberdeenshire in 2007 were never developed.
But his report said doing so would not replace treatment provided by the ambulance service.
It said with only a few exceptions personnel from the Scottish Fire and Rescue Service (SFRS) do not respond routinely to medical emergencies.
But about a third of fire services in England - and major metropolitan brigades abroad, such as Melbourne and Toronto - have become involved in responding to time-critical medical emergencies.
Recognised hazard
The report Emergency Medical Response and the Scottish Fire and Rescue Service said SFRS owned about 380 defibrillators, most of which were on fire appliances.
These are mainly intended for use on fire personnel as heart attacks are a recognised hazard for crews.
A defibrillator delivers a controlled electric shock to restore normal heart rhythm in cases of cardiac arrest due to fibrillation (a rapid and chaotic beating of the many individual muscle fibres of the heart).
Figures published by the Scottish Ambulance Service (SAC) suggested more than 1,500 Scots died from a heart attack suffered outwith hospital in 2013.
It said: "Currently, only 5% of people who have a cardiac arrest in the community survive.
"Every minute that they wait for a 'shock' cuts their chances."
Emergency response
HMFSI said many of Scotland's firefighters were trained in enhanced first aid and are experienced in applying those skills in emergency situations.
"No matter how comprehensive ambulance cover is in an area, there will always be circumstances in which ambulances and paramedics are occupied elsewhere and are therefore unavailable to respond immediately," the report said.
"In many communities, there is a fire station with firefighters trained in emergency response who could provide initial first aid until an ambulance or paramedic can arrive, and could then provide assistance to the paramedic team as required."
HMFSI stressed "co-responding" did not mean replacing the ambulance service with fire service personnel. Fire-based emergency medical response would complement and support that service and allow for the delivery of better outcomes to the community, it said.
But it pointed out many of Scotland's 350 fire stations are located in rural or remote communities where ambulance or paramedic attendance may be delayed.
In urban areas fire stations have 24-hour staffing, and may be available to provide an emergency response at times when ambulances in the area are busy on other calls.
Following the release of the report, HMFSI made it clear it was not suggesting fire appliances should be sent out for medical emergencies but, if the ambulance service felt it needed support, for two firefighters to attend in a smaller vehicle with defibrillator.
This would leave other crew members at the station to attend to a fire call which came in.
The report said it found little evidence of conflict between medical emergencies and response to traditional fire calls during two pilot schemes in Aberdeenshire.
"Small-scale pilots at Braemar and Maud were established by the former Grampian FRS in partnership with the SAS in 2007, with the Maud scheme in particular being shown to be of great benefit to the local community," it said.
"Which begs the question as to why the partnership has never progressed beyond the two pilots."
The Fire Brigades Union (FBU) said it welcomed the report.
Scottish executive member Roddy Robertson said the FBU was in negotiations with management on the issue.
He said: "This is something which makes sense in a country the size of ours with the resources we have.
"But it can not be a quick fix. We need to be able to sort out a number of issues, including insurance and liability, and training of firefighters.
"However, there are many similar systems around the world, and it would be a case of finding one which could be applied to Scotland."