More passengers down the ScotRail track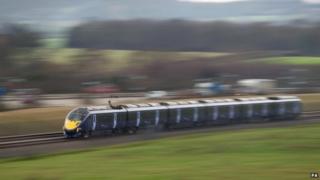 There will be more space for parking your bicycle at railway stations, says the winner of the franchise battle to run ScotRail from next April.
That should be no surprise from Abellio, part of the Netherlands' state-owned railway company. Let's hope they can also handle trains that go up and down hills.
Bicycle parking is the kind of marginal change to the service that can be squeezed out of the franchising system.
And sometimes, in a franchise that should deliver £6bn of revenue and subsidy over 10 years, it's the little things that count. A decade ago, when FirstGroup took it over from National Express, it was the often grim state of on-board toilets that was the focus of much passenger unhappiness.
There was also a move to put station barriers in place, to cut fare dodging.
Incrementally, much of the railway travelling experience has been improving. Part of awarding a new franchise is about ensuring that process continues, and pressure is put on the operator to respond to rising expectations of a quality experience.
So now, it's bicycle and pushchair capacity, smarter ticketing, free wifi, CCTV, better catering at your seat (Dutch pickled herring, anyone?) and numerous other suggested areas for improvement set out by the Scottish government when it published its franchise specification.
Among the Abellio proposals is "alignment of seats and windows" on scenic routes where tourists like to enjoy at the scenery, rather than a large piece of plastic panelling. That ought to include trains on the West Highland line.
Now, you could see that as imaginative, or you may find it hard to believe that no-one thought of it before.
Also following negotiation on the fine detail with the successful bidder, you can see the hand of politicians in the promises of no compulsory redundancies, a living wage and (a modest number of) apprenticeships.
Off-peak
But there's a key issue that separates out franchise bidders, and which is thought to have ensured Abellio won. (Transport minister Keith Brown appeared to confirm to journalists it was because it was the lowest cost option for the government, but this was corrected to being "best value".)
It is how they think they can grow revenue, and thus reduce the need for subsidy, while many fares are capped. Crucially, within that, bidders had to figure out how they could grow passenger numbers while steering them away from over-full peak-time trains.
Abellio's promise of a £5 inter-city pre-booked fares have a look of Ryanair or Megabus about them. And that's no coincidence. Airlines and coach operators have shown how passenger demand can be managed to maximise use of capacity.
On railways, capacity is one of the main constraints. Track is limited and has bottlenecks, while rolling stock is very expensive. So while there's a commitment to buy 80 new trains and run longer ones, filling up existing trains and their services is key to growing revenue and turning a profit. So don't be surprised if that means a big shift in customer/traveller behaviour away from buying your ticket when you turn up at the station.
The high turnover of franchise-holding suggests that there challengers tend towards more optimism on revenue growth than incumbents - perhaps particularly because incumbents have been through the tough times of recession.
They have also seen what happens when bidders are over-optimistic, can't sustain their business model for growth, and have to hand the franchise back to the government. That's how the East Coast main line franchise ended up, twice, in public hands.
"Credible"
For FirstGroup, which has had the ScotRail franchise since 2004 and has had around £2.5bn in subsidy during that time, this is a further blow in the turnaround plan being led by chief executive Tim O'Toole.
Responding to it, he expressed disappointment, but also emphasised the positive. There were the achievements of his company while running the franchise, including customer satisfaction rising, more services and industry awards.
He went on to say the loss of revenue from Scotland could be made up with other franchises for which it's bidding.
And the firm's UK rail revenue has been "robust" it says, at more than 6% growth in the first six months of its trading year. He had a positive take on other news, from its US yellow school buses to the British bus services which have been causing it particular headaches.
A further, rather telling comment was that he believed the FirstGroup bid to retain ScotRail was a "credible" one.
Weren't they all? Perhaps FirstGroup doesn't think so, while National Express is looking forward to finding out how its bid was beaten.
However positive O'Toole's outlook, the FirstGroup stock price fell nearly 6% on the ScotRail franchise news.