Michael Moore hopes for positive devolution talks from all parties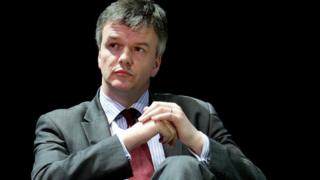 Former Scottish Secretary Michael Moore has said he hopes all the main parties involved in talks on further devolution will come with open minds.
The Liberal Democrat MP will represent his party on the Smith Commission along with MSP Tavish Scott.
The five main political parties at Holyrood have been asked to make initial submissions to Lord Smith by the end of this week.
The UK government is expected to publish its command paper next week.
It was promised before the end of October as part of a tight timetable set out by the former Labour Prime Minister Gordon Brown ahead of the Scottish independence referendum.
There is expected to be a full day's debate in the Commons next Tuesday to discuss the implications of the "No" vote on 18 September - but also the wider constitutional issues like English votes for English laws promised by David Cameron.
None of the parties yet agree on which additional powers to devolve.
Speaking at the Lib Dems' conference in Glasgow, Mr Moore said he hoped all parties would attend the talks ready to compromise and with no "red line" demands.