Alcohol abuse linked to number of licensed premises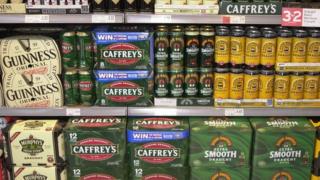 Scottish neighbourhoods with the most licensed premises have the highest rates of alcohol-related illness and deaths, according to a new study.
Death rates are more than double in areas with the most bars and off-licences, according to Alcohol Focus Scotland.
Hospital admissions are "significantly higher" in neighbourhoods with easier access to alcohol.
And off-sales outlets have the greatest potential for alcohol-related harm.
The study by researchers at Glasgow and Edinburgh universities found there were 34 alcohol-related deaths per 100,000 people in neighbourhoods with the most off-sales outlets.
That compares to 13 per 100,000 in neighbourhoods with the fewest outlets.
The researchers used Scottish "datazones" - 6,505 small areas representing neighbourhoods.
Health benefits
They compared the number of alcohol outlets within each neighbourhood with records of alcohol-related hospitalisations and deaths there.
The alcohol-related causes of illness and death included liver disease and alcohol poisoning.
Dr Elizabeth Richardson, from the University of Edinburgh, said: "Reducing outlet numbers, particularly in the highest availability neighbourhoods, could have health benefits for the Scottish population."
Dr Evelyn Gillan, chief executive of Alcohol Focus Scotland, said the study should "encourage all of us to think about how the environment we live in can have a bearing on health".
She added: "If we want fewer people to end up in hospital or lose their lives because of alcohol, then we have to be concerned about the high number of alcohol outlets in our neighbourhoods.
"Licensing boards have a key role to play in regulating the overall number of licensed premises and their decisions should be informed by studies such as this."