NHS Scotland smells coffee success with Aroma brand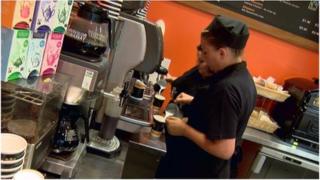 It's already one of the most competitive sectors on the high street, but coffee shops are facing new competition - from the NHS.
The service is taking advantage of prime retail sites in its hospitals and clinics to open a chain of coffee shops whose profits are ploughed back into the NHS.
"I make a point of coming here," said one female customer. "It is reasonably good... very good in fact."
Another male customer told me - "it's got a nice atmosphere and it serves good coffee and good food".
The Aroma brand of coffee shops has proved a surprise hit. The concept began in Scotland in 2009 and there are now 17 Aroma cafes in 12 Scottish hospitals.
So far they have generated £1.45m for NHS funds.
"All of that money is now going back into frontline patient services," the Scottish minister for public health told me, over a latte. Even Michael Matheson is surprised at the success of the venture.
"When patients and visitors are looking for a coffee break they are looking for a pleasant environment, and there's no reason why the NHS should not be able to provide that," he said.
Aroma's coffee is ethically sourced from Kenya, Guatemala and Brazil, and the tea is organic and Fairtrade.
Healthy options are always available. The brand also provides coffee and snacks for conferences and dining rooms.
"Patients think it's just another high street cafe but importantly it complies with our healthy living programme which means it has healthy options," said Mr Matheson.
"Over and above that, we pay a rate which is above the Fairtrade rate in order to make sure the producers of these goods benefit as well."
Competition for the cafes has not come from the likes of Starbucks or Costa, but from an unlikely quarter: traditional hospital tea bars.
The Royal Volunteer Service (RVS) and other groups initially expressed concern that they'd be 'ejected' from hospitals. A solution was found for the RVS - who were allowed to run tea bars in other parts of the hospital or shops selling different goods.
However, the ladies of the League of Hospital Friends tea bar at Inverclyde Royal Hospital had to mount a fierce campaign to prevent a hostile take-over by Aroma.
"People were horrified," said manager Helen Wyllie. "Our coffee is just 60p a cup. Elderly people on a limited income just cannot afford cafe lattes and all these fancy coffees which are on offer in Aroma."
The ladies were allowed to keep their tea bar providing they put more healthy options on the menu. They continue to raise about £100,000 a year for Inverclyde Royal Hospital.
Staff who work in the Aroma coffee shops are NHS employees - retaining the perks of a pension and better working arrangements than would be offered by many high-street cafes.
The concept has proved so popular that it has now been adopted by parts of the NHS in England. Pennine Acute NHS trust is operating an Aroma cafe under licence at Rochdale Infirmary.