Four Scottish universities in world top 200 list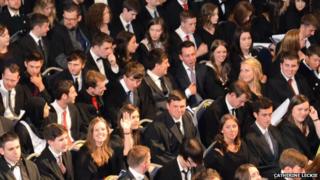 Four Scottish universities have edged up the Times Higher Education world rankings despite the UK coming under pressure from overseas competition.
Edinburgh, Glasgow, St Andrews and Aberdeen universities all performed better than last year.
However, Dundee University dropped out of the top 200.
The rankings rate universities worldwide on 13 measures including teaching, research and international outlook.
In first place overall was the California Institute of Technology in the US, holding on to the top spot for the fourth year running.
Harvard was second and Oxford took third place, down one from joint second last year.
Edinburgh was the highest ranked Scottish university in 36th, up from 39th last year.
Glasgow was 94th and St Andrews 111th.
They had shared 117th on the rankings last year.
Aberdeen university was ranked 178th, up from 188.
The rankings for 2014/15 showed that overall, the UK was holding its position, with 29 institutions in the top 200, more than any other country except the United States.
But that is two less than last year.
Phil Baty, editor of the Times Higher Education rankings, said Scotland was continuing to punch above its weight in the face of tough global competition, and was "really standing out as one of the strongest higher education countries in the world".
Speaking to BBC Radio's Good Morning Scotland programme, he also said the global focus on Scotland during the independence referendum campaign had given a "bit of a bounce" to the reputation of Scottish universities.
He said the UK's elite universities were still highly competitive, but warned there was little doubt that key East Asian nations had emerged as powerhouses in global higher education and research.
Scottish Education Secretary Michael Russell said: "These figures show that four of Scotland's institutions have not just consolidated but improved their standings in the THE World University rankings, with two now ranked in the top 100.
"This underlines our strength in higher education and the value with which the Scottish approach is held globally."‬
Last month a separate league table, the QS World University Rankings, put Edinburgh University 17th, Glasgow 55th and St Andrews 88th.
The rankings were based on performance in a number of areas, including academic reputation, employer reputation, staff to student ratios, research citations and international students and faculty.
---
Premier league
Jamie McIvor, BBC Scotland Education correspondent
The strong performance of Scotland's four "ancient" universities is likely to be seized upon by both academics and supporters of the Scottish government's policy on higher education.
There had been concerns a funding gap could open up between Scottish universities and those south of the border, which can charge the majority of their students tuition fees of up to £9,000 a year.
The fear was any such gap could lead to an academic brain drain.
Not only have the four ancient universities - which, more than other universities, see themselves as world players - improved their position year-on-year, they have done so while the UK's overall position in the table slipped.
League tables like this one are ultimately subjective.
Some Scottish universities earn a significant proportion of their income from the large fees paid by students from outside the European union and research funding. A strong performance in league tables like this one can only help.
Still government supporters will point out the rise in their positions came as Scottish students continued to receive free tuition and questions were asked over how independence would affect both funding arrangements for students from other parts of the UK and research funding.