David Cameron admits referendum climax was 'nerve-wracking'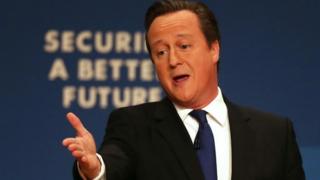 The prime minister has admitted the week leading up to the referendum on Scottish independence had been the most nerve-wracking of his life.
But David Cameron told the Tory party conference that he had been right to agree to a legally binding referendum.
Voters in Scotland rejected independence by 55% to 45% in the referendum on 18 September.
But some polls ahead of the vote suggested the pro-independence "Yes" campaign had held a slight lead.
Mr Cameron opened his address to delegates in Birmingham by saying that he was "so proud to stand here today as prime minister of four nations in one United Kingdom."
The prime minister added: "I was always clear about why we called that referendum. Duck the fight and our union could have been taken apart bit by bit. Take it on and we had the chance to settle the question.
"This party has always confronted the big issues for the sake of our country, and now England, Scotland, Wales, Northern Ireland - we are one people in one union and everyone here can be proud of that."
Mr Cameron paid tribute to the role Scottish Conservative leader Ruth Davidson had played in the referendum campaign, describing her as a "new star" who would take the party's message to every corner of Scotland.
---
Analysis: Brian Taylor, BBC Scotland political editor
Here is a fun game you can all play. Take David Cameron's speech today - and project its key offer forward to a time in which income tax has been devolved to Scotland.
Key offer? Protect NHS spending in England? Close. Constrain immigration? No, not that one either. Income tax cuts? Got it.
Mr Cameron is promising that, if re-elected, he would raise the tax-free allowance from £10,5000 to £12,500. And he would increase the threshold at which an individual pays the 40p rate from £41,900 to £50,000.
Both these promises to be delivered by the end of a five year UK government term. Which makes them, sceptics might say, rather dependent upon closing the deficit by 2018 as scheduled.
The sceptical chorus might be swelled still further by those noting that this largesse is accompanied by projected cuts in benefits in order to achieve that deficit target.
---
Mr Cameron said the lead up to the referendum "was the most nerve-wracking week of my life", but that the 70th anniversary of D-Day on 6 June had been the best moment of his year.
The anniversary commemorations in France had reminded him of how "when people have seen our flag in some of the most desperate times in history that have known what it stands for - freedom, justice, standing up for what is right", the prime minister said.
But he said his intention was to set out how this generation can "build a country whose future we can all be proud of, how we can secure a better future for all, how we can build a Britain that everyone is proud to call home".
He also reiterated his promise to deliver "English votes for English laws", saying: "During that referendum campaign we made a vow to the Scottish people - that they will get more powers and we will keep our vow.
"But here is my vow to the people of England, Wales and Northern Ireland - I know the system is unfair, I know you are asking if Scotland can vote separately on things like tax, on spending, on welfare why can't England, Wales and Northern Ireland do the same, and I know you want this answered.
"So this is my vow: English votes for English laws, the Conservatives will deliver it."
Mr Cameron pledged to cut taxes for thirty million people if the Conservatives win next year's election, and said he wanted to raise the tax-free personal allowance from £10,500 to £12,500.
He also said the threshold for the 40p income tax rate would be raised from £41,900 to £50,000 under a future Conservative government.
And in a repeat of a promise ahead of the 2010 general election, Mr Cameron said NHS spending in England would be protected for a further five years if the Conservatives win next May's election.
The pledge would have a knock-on impact on funding in Scotland, Wales and Northern Ireland.