David Haines' daughter wants IS organisation 'eradicated'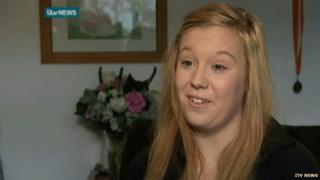 The daughter of David Haines, who was killed by Islamist militants, has said the Islamic State (IS) group should be "eradicated".
Bethany Haines also told ITV News that she hoped her father's body would be returned to his family.
Mr Haines, who was born in Yorkshire and educated in Perth, was killed by IS earlier this month.
He had been taken hostage while carrying out aid work with refugees in Syria.
Mr Haines had been living in Croatia with his second wife, who is Croatian, and their four-year-old daughter. His parents live in Ayr.
His older daughter Bethany gave her television interview from her home in Scotland as MPs prepare to vote on military action against IS.
The 17-year-old said: "IS need to be eradicated. They can't continue this way. They can't be doing this to people and get away with it. No matter what nationality, if they are Western or not.
"Hundreds of Syrians have been killed by them. They need to be stopped. If airstrikes and ground force is what it takes, that's what it takes."
Support
Ms Haines said her family had been touched and moved by the messages of support they had received.
She added: "Anyone who needed help he was there. Tragically he's lost his life doing what he loved but he wouldn't have stopped. Even if he'd come back after this he would've gone out again and again and again. He loved helping people.
"He was such a bright character. Always making people laugh, telling jokes. He was a brilliant man. And he will be remembered like that by everyone who knew him and probably by people who didn't know him.
"He will be remembered and not for the way he was shown in that video. But for the truly amazing work he did and the bright character he was."
Bethany Haines said her father's commitment to helping others had encouraged her to follow his example.
"I'm hoping to do some aid work after next year and do a bit of work with a charity," she said.
"Hopefully it will spark a career doing that. He'd tell me of all the people he'd helped and I want to do that too."