Scottish referendum: What's the point of joining a party?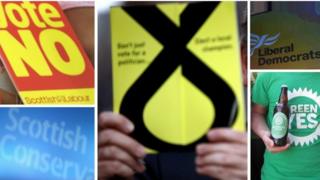 Two pro-independence parties have reported a rise in their membership despite the referendum on 18 September going against them.
The SNP now has more than 50,000 members compared with 25,642 at 17:00 on the day of the vote, the party said.
That puts it ahead of the entire UK-wide membership of the Lib Dems, which the party estimates exceeded 44,000 in April.
The Scottish Greens, another party in the "Yes" camp, say they have more than doubled their membership since the referendum, attracting more than 3,000 new members to give a total of 5,400 signed-up supporters.
The Scottish Labour Party says their party membership has increased by "hundreds" during the referendum period, though they will not disclose precise figures.
The Scottish Conservatives will not release their figures either but said they have "experienced an increase in numbers thanks to the referendum" and that the Conservative Friends of the Union group set up for the campaign attracted more than 80,000 members.
The Scottish Lib Dems do not release membership figures frequently enough to be able to tell how they may have changed since the referendum, but they point to a 9% increase in their UK-wide membership last year.
Membership gets you similar entitlements across most parties, such as....
the chance to vote on selecting candidates
the right to attend party conferences
and the right to stand as a candidate after about one year's membership.
In some parties, members play a more direct role in deciding party policy.
Members of the SNP, the Scottish Greens and Scottish Lib Dems all have the opportunity to vote on motions at the annual conference that decide the party's position on various issues.
Scottish Labour and Scottish Conservative members also debate policy issues at conference but they are not voted on in a binding way.
'Same old politics'
So why have people been signing up to pro-independence parties in such big numbers?
Fraser Blain, 16, is from the Isle of Arran. He got the chance to vote for the first time in last week's referendum, cast his vote for "Yes" and four days later he joined the SNP.
He says he was motivated to join "because the Westminster parties don't represent young people in Scotland".
Fraser explains: "Young people in Scotland won't put up with the same old politics as usual from Westminster. We voted for change - and the SNP is the best way to deliver that change we desperately need to make our country a fairer place for everyone who lives here."
Julia Sutherland, a writer and comedian who's 38, has recently joined the Scottish Green Party.
She says she felt "galvanised into being part of the political process by the campaign, but those issues - like Trident, social justice - haven't gone away just because it turned out to be a 'No' vote".
She says her next step will be to go along to the party's autumn conference where her main aim is to "be inspired and informed by people who know more than I do, and to participate in the discussion about where we go next".
Party membership as a whole remains a minority pursuit. A recent House of Commons Library note shows that less than 1% of the UK electorate is now a member of the Conservative, Labour or Liberal Democrat Party, compared with 3.8% in 1983.
But the author Richard Keen points out that smaller parties and nationalist parties have bucked this trend to some extent, since they have in his words "risen markedly since the new millennium".