Dust settles in Yes-voting Glasgow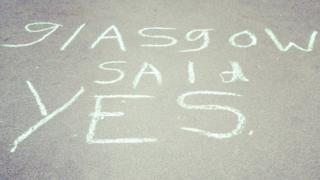 If you spoke to most Glasgow taxi drivers in the days running up to Thursday's referendum, they had a common gripe: everyone they picked up wanted to talk about the referendum.
One told me how angry he was that people kept asking him how he was planning to vote, then trying to change his mind. Another suggested the independence debate had replaced the rivalry between Celtic and Rangers as the controversy of choice for taxi passengers in the west of Scotland.
Not now. Stephen Henderson, a 51-year-old driver in the city, says there has been a cooling in talk since the result was confirmed on Friday morning. "I have only had a couple of people mention it since," he says.
Glasgow is Scotland's biggest city and "Yes" won a majority here - a major scalp in a city that was famed for its support of Labour.
Both campaigns put significant work into the city, with Yes Scotland and Better Together both hosting public events here on referendum eve.
The city also attracted attention on Friday night when loyalist protesters descended on George Square - until now a meeting point for passionate and peaceful "Yes" campaigners - but now a focal point for fears of unrest.
As the dust settles after the referendum result, things here are back to normal. George Square is quiet, with only a few tourists milling around taking pictures in the drizzle.
The only sign that this had been the centre of tensions last night are the steel fences around the various monuments that decorate the square. The only remnant of the mass turnouts of "Yes" campaigners the previous days is a limp Saltire attached to a Walter Scott plinth and a tartan hat and scarf being worn by the Robert Burns statue.
Elsewhere the signs of the referendum have largely faded. The bustling streets of the city centre are full of shoppers on Saturday, not campaigners. Chat on the street is about plans for Saturday night, not the constitutional question.
After being almost impossible to spot on Friday morning, a few people wearing Yes badges are on the streets on Saturday. One of them, Russell Jones, 45, says he was "gutted" at the result, but "feels a bit better today".
Kyle Taggart, 28, is another. Mr Taggart joined the Green Party yesterday and hopes the "momentum" generated by the independence debate can continue. He remains defiant, despite the result: "I don't think it is the end at all. It feels like folk do want change."
Supporters of the "No" campaign are happy with the result, but few are likely to celebrate it in a public fashion. For now, politics in Glasgow is on the backburner. It's unlikely to last forever.