Nicola Sturgeon backed by former SNP leader Gordon Wilson to replace Salmond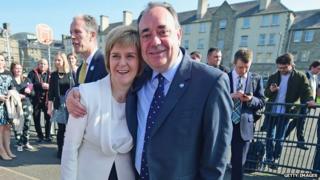 Former SNP leader Gordon Wilson has said there is no doubt that Nicola Sturgeon will be the next leader of the party.
Mr Wilson said the current deputy first minister was the outstanding candidate to replace Alex Salmond.
But he said she might wish an election to be held to confirm her in the post.
Mr Salmond announced his decision to quit as party leader and first minister on Friday after losing the independence referendum.
Mr Wilson said: "Nicola Sturgeon has done extremely well."
He added: "She has competed with Alex in many ways in quality and presentation of the referendum campaign.
"I think she herself may want to have an election, rather than being crowned.
'Very astute'
"The outcome of that, I'm certain, is not in doubt. But most leaders, including myself and also Alex Salmond, prefer to be one amongst candidates so that you then get a vote from the Scottish National Party delegates which in a sense confers legitimacy."
Mr Wilson, who led the SNP from 1979 to 1990, told BBC Scotland he was surprised by the timing of Alex Salmond's decision to quit.
He said: "We've got two elections on the horizon. But then again, Alex is very astute and very clever and I think in many ways he's chosen the correct way to go out - if it was his decision to give up the levers of power inside the Scottish National Party and in the Scottish government.
"There's no doubt he's a man of great stature and he will deserve a quieter life after all his efforts."
Former SNP MSP Andrew Wilson, who knows Mr Salmond well, told Good Morning Scotland there was a feeling that his resignation had been coming for some time, depending on the result of the referendum.
He said: "When it comes to Alex knowing his own mind and knowing timing, he always gets ahead of the story on these things.
"He's 'got previous' when it comes to resigning as leader, which is amusing. But I don't think he's coming back this time.
"The world has moved on and he's handing the baton on at such a special moment for the country.
"It's a great testament to what has been a lifetime of public service."
The SNP's former treasurer Ian Blackford has called for the party to seize its negotiating power in the wake of the referendum and campaign for a form of home rule.
While 55% of voters said 'No' to independence, the 'Yes' campaign has said the result demonstrates a will for change in Scotland and an appetite for more devolved powers.
'Desire for change'
Prime Minister David Cameron said yesterday that his government would deliver on its campaign pledges to give more powers. But he sparked controversy by saying that it would be in tandem with a fresh debate on greater powers for England, Wales and Northern Ireland.
He also said the ability of Scotland's MPs to vote on English matters would be reviewed.
Mr Blackford said: "I think what we've got to do over the course of the next few months is say to Westminster, 'Look, there is a real desire for change in Scotland'.
"I would actually go further than that. I think what the SNP should consider doing is saying to parliament that we should be going for home rule for Scotland.
"I'd go as far as to say home rule within the context of the Union, so reserving defence and foreign affairs, and let us campaign right up to the Westminster election."