Scottish independence: Lamont concentrates on bread and butter issues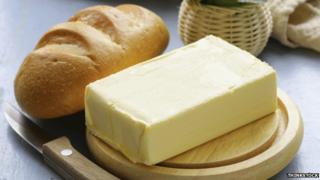 Their slogan is "it's Asda price" - implying the sale of goods at competitive prices.
But when the Labour leader in Scotland, Johann Lamont, turned up at one of their stores in Falkirk her message was that the cost of the weekly shop could go up if Scotland becomes independent.
So quite literally she was concentrating on bread and butter issues.
The "No" campaign were shaken by polling suggesting that a slim majority of voters didn't believe their core warning over the currency, so now far wider risks are being highlighted.
As well as talking about prices, Ms Lamont used her visit to the supermarket to talk about other potential costs of independence -risks over pensions and risks over the future of the banks.
---
What has Yes Scotland been up to?
The BBC's James Cook finds out that with six days to go to polling day, Scotland's Deputy First Minister Nicola Sturgeon has been hearing the "Yes for freedom" cry.
---
All this is dismissed by the "Yes" camp as scaremongering.
But as Gordon Brown said in a speech on Thursday attacking the SNP: "You can dismiss some of the warnings some of the time, but not all of the warnings all of the time."
Ms Lamont would also have seen the polling suggesting that more women voters were becoming sceptical about independence - so she didn't lose the opportunity to talk to female shoppers in particular.
Later, both the former and current leaders of the Labour Party, Gordon Brown and Ed Miliband, will speak at a rally a stone's throw away from a statue of Donald Dewar - Scotland's first ever first minister - in central Glasgow.
Their argument is that with more powers for the Scottish Parliament, including the ability to scrap the bedroom tax even if the Conservatives form the next government at Westminster, the risks of independence simply aren't necessary.
But some Labour MPs are saying privately that even now too much emphasis - based on focus group findings from earlier in the campaign - is being placed on the potential effects of independence on people's pockets - and their leadership should put more faith in emotional as well as economic arguments.