Growing number of workplace chaplains in Scotland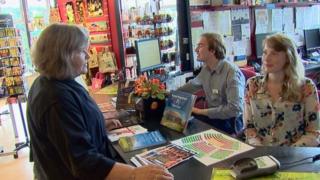 From theatres and shops to fire stations and football clubs, workplace chaplains are growing more and more popular.
The man or woman in the dog collar provides all kinds of support to employees of all faiths and none.
---
Annie Hogg is a familiar face in Pitlochry Festival Theatre.
But she doesn't tread the boards, sell tickets in the box office or work in the cafe. She's a chaplain.
"I have to be prepared for the unexpected and simply walk alongside whatever's going on with the people who are engaged in the particular sorrow, sadness, joy, crisis - and be there with them," she explains.
"I'm not trying to mend things for them, but just walk alongside them."
And this role of a sympathetic ear, an unofficial go-between, is invaluable to employee and employer.
Mark Da Vanzo, the theatre's deputy chief executive, thinks it is a very valuable resource.
"Many of our cast and crew come here to work and to live," he says.
"And because they're separated from their traditional family support networks they can often feel lonely and could potentially feel isolated.
"Having someone who's impartial, someone who's not connected with the theatre management for them to go to at any time and talk through any issue is incredibly valuable."
Work Place Chaplaincy Scotland emerged from the Scottish Churches' "industrial mission" to provide pastoral and spiritual support to business, commerce, local government, retail sectors and agriculture.
According to this organisation, four years ago there were two chaplains, providing a service in 20 workplaces.
Now there are 93 operating in 1,500 businesses across Scotland. And that doesn't include prison chaplains, those working in the armed forces, and in other areas.
So why the rise?
The Reverend Iain McFadzean is the chief executive of Work Place Chaplaincy Scotland. He says there's a simple answer - because there's a need.
"We live in challenging times. And people want someone to speak to, someone to listen to them and someone who values them as a person," he says.
According to him, chaplains are very involved in the retail sector which can be very insecure.
"We've had situations where chaplains have had texts or messages from people they've been working with to say 'It's closed.'
"And they turn up to the shop they were working in to find it's closed and life that seemed steady and safe yesterday has completely transformed today.
"We don't sit down with them and say it'll be fine; we just try and share their anguish and try to strengthen them to come through it. But it's a horrendous situation for anyone to be in."