Scottish independence: Sturgeon hears the 'Yes for freedom' cry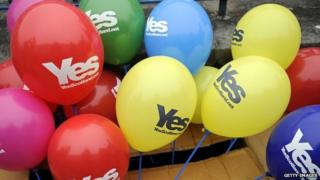 Across Scotland, politics has come alive on the streets on a scale few, if any, can remember having seen before.
In Drumchapel, on the north western fringes of Glasgow, the deputy leader of the Scottish National Party, Nicola Sturgeon, strode confidently into the middle of a lively crowd of "Yes" supporters and a handful of opponents waving "No Thanks" flags.
There is general agreement that the referendum could be won and lost in working class areas like this; areas that were, traditionally at least, the Labour heartlands.
Waiting to meet Ms Sturgeon in a crush of cameras, wearing a green "Yes" badge and a broad smile, was Peter Mullan.
---
What has Better Together been up to?
The BBC's Iain Watson finds out that with six days to go to polling day, Scottish Labour's Johann Lamont has been concentrating on bread and butter issues.
---
The actor seems to fit right in. The gritty dramas which made his name might well have been set in a place like this, where the bookies and chemist sit alongside shuttered shops and To Let signs.
So, how are warnings about the relocation of banking head offices from Edinburgh to London and the possibility of increasing supermarket costs going down here?
Some people are worried, for sure, but many say they simply don't believe what they are hearing. Peter Mullan is one of them.
"We knew the kitchen sink was going to get thrown at us," he tells me, adding that now it seems to be "the entire kitchen. We've had forks, plates, knives everything.
"I mean it's getting ridiculous now. So these scare stories are exactly what they are. They're just scare stories."
Ms Sturgeon nods in agreement, saying: "The banks made clear yesterday that what they were talking about were technical contingency arrangements.
"RBS said not a single job would be affected by this. They had no intentions of moving jobs and operations.
"It's the no campaign that's trying to twist the words of the banks in order, as Peter said, to try to scare people.
"We're a few days away from the people of Scotland taking control of the future of our own country. The Westminster establishment doesn't want that to happen. And so they're going to throw everything they can but, you know what, I don't think it will work."
Among the crowd watching the media gather around the politician and the actor are two cyclists, their bikes decked out with "Yes" messages.
They're looking forward to a ride on Sunday into the nearby countryside, partly for fun, but mostly to campaign for independence.
And they too agree with Peter Mullan about the warnings.
Tracy McKenzie, 34 who is out of work, said: "I think it's a load of rubbish."
"If they're going to leave and go down south, let them. We've got other banks here that are willing to stay with us."
Her fellow cyclist, David Gourlay, 44, who is also unemployed, says: "It's embarrassing. Absolutely embarrassing. It's just all scare tactics. Nobody is listening to it.
"I'm voting Yes for freedom. Scottish freedom. Nothing else."