Scottish independence: Osborne's further powers plan 'not against purdah rules'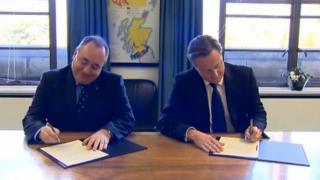 A timetable for new powers for Scotland would not break referendum purdah period rules, says the UK government.
The UK and Scottish governments are prohibited from publishing anything which argues "for or against a particular outcome" during purdah.
On Sunday, UK Chancellor George Osborne said voters in Scotland will be offered a plan for more powers.
However, the UK government claims the offer would come from the pro-Union parties, not the government itself.
Rules outlined in the Scottish Referendum Act say, during purdah, the Scottish government cannot publish information which gives information about:
The referendum - including material that does not support one outcome or the other
Deals with the issues raised by the referendum question
Gives arguments for or against a particular outcome
Encourages people to vote at the referendum
In the Edinburgh Agreement, signed by Alex Salmond and David Cameron, the UK government agreed to abide by the same rules in the 28 days before polling.
However, on Sunday, Mr Osborne said "a plan of action to give more powers to Scotland" in the event of a 'No' vote will soon be unveiled with polling day less than two weeks away.
If this plan came from the UK government it may break the rules, but a government spokesman said the announcement would be within purdah guidelines.
He said: "The purdah is in place to prevent taxpayers' money being spent on referendum campaign material.
"This timetable for new powers would not break purdah as the offer will come from the pro-Union parties, and not the UK government."
The timetable for more powers should Scotland vote 'No' is expected to be released in the next few days.