Forth Road Bridge marks 50 years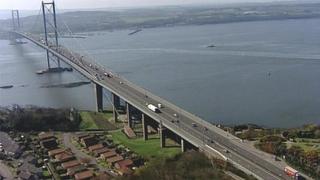 The Forth Road Bridge is celebrating 50 years since it was opened by the Queen on 4 September 1964.
The bridge, which took six years to build, transformed connections along the entire east coast of the UK.
It now carries 25 million vehicles a year, far more than it was ever designed to take.
However, the suspension bridge has suffered corrosion to the steel wires that hold it in place and it will soon be replaced by a new crossing.
The Queensferry crossing will open in 2016 to take all the general traffic that currently uses the Forth Road Bridge.
The 50-year-old suspension bridge will be converted to carry buses, taxis, cyclists and walkers, significantly reducing the load on the ageing structure.
Before the bridge opened in 1964, the only way for cars to cross the Forth to and from Fife was by ferry.
Seven deaths
The ambitious building project, inspired by San Francisco's Golden Gate Bridge, cost about £16m, a huge amount at the time.
During construction, seven men died building what was then Europe's longest suspension bridge.
At first it cost half a crown (two shillings and sixpence) to drive across. The tolls were eventually scrapped in 2008.
More than 100,000 visitors are expected at a 10-day festival to celebrate the anniversary, which has events taking place in North and South Queensferry and on the road bridge itself.
The celebrations culminate on Saturday 13 September when thousands of torch-bearers will form a kilometre-long river of fire on the bridge.
There will then be a huge bridge party in South Queensferry with live music headlined by Scottish rockers Big Country and guests Bwani Junction.