In pictures: Edinburgh International Festival fireworks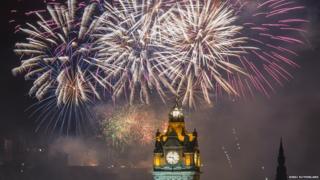 The Edinburgh International Festival came to an end on Sunday night with the famous fireworks concert.
About 250,000 spectators watched the event, which could be seen from vantage points across Edinburgh, the Lothians and Fife.
More than 400,000 fireworks were launched during the 45-minute concert.
The display was designed by fireworks wizard Keith Webb and synchronised to music performed live by the Scottish Chamber Orchestra.
Alongside the 1812 Overture, the 55-strong orchestra also played Wagner's Ride of the Valkyries, Beethoven's Egmont Overture, Mendelssohn's War March of the Priests from Athalie, and Debussy's Marche Écossaise.
The spectacle marked the end of Sir Jonathan Mills's eight-year tenure as EIF director.
Organisers said ticket sales for the international festival had passed the £3m mark for the first time.
Some 80% of available tickets were issued, and overall audience attendance is estimated at more than 415,000.