Glasgow 2014: Only two drivers fined for Games lane abuse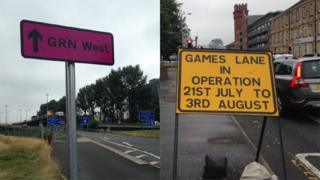 Only two drivers were issued fines for breaching Commonwealth Games lane restrictions in Glasgow, according to data obtained by BBC Scotland.
Both were car drivers and each fined £50 after using the Clydeside Expressway lane, near the SSE Hydro and SECC venues.
The first fine was issued on 24 July at 14:10, with the second issued the following day at 17:32.
The lanes, on the Games Route Network, were in place from 21 July to 3 August.
They were only to be used by those transporting athletes and officials to and from venues.
No cars, taxis or bikes were allowed to use the lanes.
The data also shows no vehicles parked on the routes. Any parked cars would have been towed away, incurring a cost of £150 for the vehicle's release.
A Games Route Network is a requirement for all Commonwealth Games hosts, to ensure athletes and officials are able to arrive at the official venues in time.
The Glasgow 2014 Commonwealth Games ran from 23 July to 3 August, with Scotland winning 53 medals, including 19 golds.