Call for more data on Scottish disabled children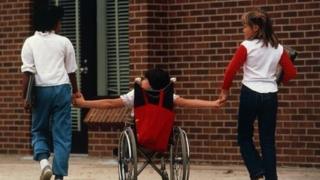 A charity campaigner has called for better information on the number of Scottish children with a disability.
Ann Maxwell said the official data currently available was five years out of date.
She said this made it harder for children, parents and carers to get the best help and support.
The Scottish government said it was committed to supporting disabled children and was working to improve the information available.
Mrs Maxwell and her husband set up a charity, the Muir Maxwell Trust, to help support children with a severe form of epilepsy.
It is named after their teenage son Muir who has Dravet Syndrome, a type of epilepsy which can severely hinder a child's development.
She has raised millions of pounds over the years and won awards for her fundraising efforts.
'Diluted resources'
Mrs Maxwell, from Midlothian, said: "The failure of the Scottish government to collate up-to-date specific, accurate and detailed data on disabilities in relation to children and families risks dealing a devastating blow to the lives of many families.
"Children with disabilities, especially those with profound disabilities as a consequence of a severe and life-long condition, should not be included in general data relevant to children who have less significant additional support needs.
"To do so diminishes the scale of their more profound needs and dilutes the resources available for this most vulnerable group."
She said the government has recognised this in policy statements dating back to 2009 but had set a seven-year timescale for recording relevant data.
"This absurd timescale represents up to half of a child's childhood during which time we have potentially failed to meet their needs and the needs of their families," she said.
'Committed to equality'
A Scottish government spokesperson said data on disabled children was collected in the census by National Records of Scotland but the government also collected extra information on children who access additional support.
The spokesperson added: "We are currently working to improve data collection of children with disabilities as defined under the Equalities Act.
"We are fully committed to equality for disabled children and young people in Scotland, and to ensuring that all children can achieve their potential."
Mrs Maxwell said that according to the 2009 data, 9,232 Scottish children had a learning disability, 1,340 had a visual impairment, 1,007 had a hearing impairment and 43 were deaf-blind.