Scottish independence: What does your vote mean for the money in your pocket?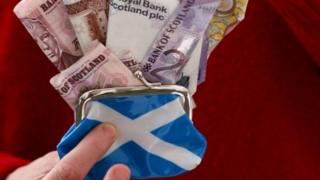 In the latest BBC Scotland referendum documentary, BBC Newsnight's chief correspondent Laura Kuenssberg has been talking to Scots to find out if their voting decision will be ruled by their heart, head or wallet.
---
You've heard from the politicians. You've heard from captains of industry. They've tried to persuade you that you'll be better off by staying together, or becoming independent.
But what many people just want to know is: "What's in it for me?"
How would the two different choices - "Yes" or "No" - affect your life?
The decision about how to vote might be about what's in your head. It might be about what's in your heart. There is one other very important factor. Your decision is also about what's in your wallet.
And it can be very difficult to work that out. Politicians aren't being clear, economics can be a difficult subject and more than anything, the future is impossible to predict.
---
DOCUMENTARIES - Scotland's referendum
BBC Scotland has been broadcasting a series of in-depth films looking at various aspects of the Scottish independence referendum debate.
---
On top of that, Scotland will change regardless of the referendum. That's because Holyrood is getting more economic powers and more control over its finances.
So whatever the outcome of the vote, there is no such thing as the status quo.
I've been talking to Scots from all walks of life, who are all thinking about what independence would mean for them, from established small business owners to twenty-somethings looking for work.
New house
They are all wondering about what the economy might look like should Scotland choose to become independent.
I've tried to help work out the best answer for them by taking their independence questions to two of Scotland's most eminent and crucially, neutral economists - David Bell and Jo Armstrong. Their answers feature in my documentary.
I met Maxine who sells crystals and does complementary therapy in her small shop on Prestwick's high street.
She buys her stock from England and is wondering what effect independence would have on her financial decisions. She says she's stumped, even though she's listened hard to the economic arguments on both sides.
It gets even more confusing for Maxine Lewis. At the moment she's also thinking of selling her house and buying a new one. She's unsure about whether to wait until after the dust settles on the referendum or whether to get on with it.
She wants to know how independence would affect the value of her home, and what currency would her debt be in?
But we're all part of the economy, including those who are unlucky enough to find themselves out of work.
The decisions made by the government about spending on benefits like Jobseekers Allowance or Housing Benefit directly impacts on how much money is left to go round for other services. And the financial decisions made by those who have to rely on benefits of course affect the economy too.
Finding a job
But what difference would independence make to the lives on those on benefits?
I met two sisters who both rely on state support. Stella and Natalie live in Gowkthrapple on the outskirts of Wishaw, where they have been trying hard to get work, sending hundreds of applications to potential employers. They say it's extremely difficult, with so many people going for each job available.
Stella says she's been persuaded to vote Yes by one of the highest profile promises of the referendum - the Scottish government's commitment to abolish what's come to be known as the "Bedroom Tax".
But her sister disagrees. Natalie is voting "No", because she's concerned that big companies may wish to leave an independent Scotland if the trading conditions weren't right for them. She says that could mean there were even fewer jobs available, making it even harder for her to find a job.
Making this documentary took me all over Scotland, meeting workers from right across the economy.
From the hoteliers excited that an independent Scottish government might cut Air Passenger Duty, to the shipyard worker who fears that work building ships for the Royal Navy would dry up, there are countless individual hopes and fears.
But it's really important to remember, that whatever the result, Scotland's economy is already changing.
---
Daily question
As the people of Scotland weigh up how to vote in the independence referendum, they are asking questions on a range of topics from the economy to welfare.
In a series running up to polling day, BBC correspondents are looking at those major questions and by using statistics, analysis and expert views shining a light on some of the possible answers.
So far, they have looked at Trident, Scottish economic growth, broadcasting, population, health and UK debt.
---
The Scottish government is getting new powers to raise certain taxes as well as to borrow money for investment. That means more economic levers are coming Scotland's way, giving it more control.
Despite so many confusing messages, that much is clear.
While we can't know the answers yet to big questions like what currency we'd use, because that would only be settled by negotiations in the event of a "Yes" vote, hearing from families and workers around the country does sketch out the implications, good and bad, for all of us.
Hearing that, just might help you work out, either way, what's in it for you.