Scottish independence: Sunday Herald sales rise after backing 'Yes' vote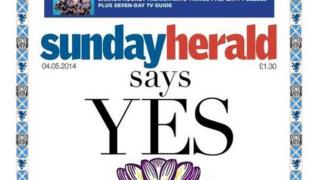 The only major newspaper to back Scottish independence has seen its sales rise slightly, according to official figures.
The Sunday Herald announced its backing for a "Yes" vote in May.
Between January and June it sold an average of 25,100 a week - up around 250 on the same time last year.
Print sales of The Herald on weekdays, The Scotsman and Scotland on Sunday continued to decline substantially.
The Sunday Herald is, so far, the only widely-read newspaper to support independence. It has also marketed its support for a "Yes" vote, giving away stickers last weekend.
The extent to which the rise in sales is a direct consequence of the paper's political direction is not clear.
But a breakdown of the figures showed there was big jump in sales in May after the paper's declaration which then slipped back. However the paper is still selling more copies than it did a year ago.
Sunday Herald editor Richard Walker said the paper's decision to back Scottish independence helped its performance - along with the launch in May of a new glossy magazine.
Some observers had long speculated that there was a market niche for an upmarket newspaper which supported independence.
The figures are from the the newspaper sales auditor ABC which audits these titles every six months as "regional" publications for commercial reasons.
The weekday Herald - which has still not declared its support for either side in the independence campaign - saw print sales fall significantly.
It sold 37,728 copies on average. A detailed breakdown of the figures show that by June it was selling just over 36,500 copies a day - another record low in modern times.
But the company argues that this is only part of the story.
In a statement it said: "Firstly, online audience and subscriber growth have continued to grow and The Herald's total paid readership is up year-on-year.
"Although January-June 2014 average print circulation has slipped back by 8% year-on-year, online audiences have increased by 49%, resulting in a total audience increase of 39% to 2.27m each month.
"With paid-for website subscriptions rising by 135% and mobile app subscriptions increasing by 269% year-on-year to July 2014, The Herald has also enjoyed continuing growth in paid readership across both print and online."
The company also said the Sunday Herald sales figures had continued to rise over the summer - a period not covered by the industry audit.
The statement continued: "Herald & Times Group's own internal figures for the subsequent July and early August 2014 period show this rate of growth increasing further, to 13.5% 'year-on-year' for the first two weeks in August, which equates to over 28,000 copies sold."
Paid readership
Herald and Times' Managing Director Tim Blott added: "We place our readers at the heart of our development strategy and will continue to provide news and content through whichever platforms they prefer.
"What is interesting to note is that, despite a tendency by the media to report with alacrity, stories of its own demise, we at Herald & Times Group are seeing a significant increase in paid readership overall".
Two other newspapers published in Scotland saw the long-term declines in their print sales continue.
The Scotsman averaged 27,200 between January and June against 31,300 in the same period last year - June's sale was just 26,300.
Its sister paper Scotland on Sunday, which moved to compact size in January, averaged 30,300 over the six months. June's sale was 28,300.
The papers' publisher Johnston Press has also been making much of its digital strategy.
Sales for the Daily Record and the Scottish editions of UK-wide papers are announced separately.
The best-selling upmarket paper in Scotland is the Sunday Times which sold 43,500 copies a week in June.
While the Daily Record is thought likely to back a "No" vote in the referendum there is still speculation over which side - if any - the Scottish Sun will back.