Scottish NHS fails to meet government targets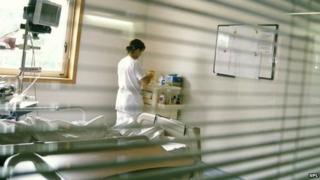 The Scottish NHS has failed to meet a range of government targets which monitor its performance, figures show.
People are waiting too long in accident and emergency departments, too long for specialist treatment, and too long to be discharged.
The NHS in Grampian, Lothian and Forth Valley missed a target to treat the majority of people within 18 weeks.
The Scottish government said that, overall, patients were being treated within the 18-week target.
It pointed out that bed blocking was far higher under the previous administration and said significant investment was being made to ensure that more patients continue to be treated quicker than ever before.
A&E departments are still missing a target to treat patients within four hours.
The NHS information services division (ISD) said that in April, May and June of this year, only two health boards managed to treat most patients within four hours. Five health boards missed an interim target to treat 19 out of 20 patients within that time frame.
Bed-blocking rise
The NHS in Grampian, Lothian and Forth Valley fell short of a target to treat 90% of people within 18 weeks.
The figures also showed that the number of people who cannot be discharged because there is nowhere for them to go - so-called bed blockers - has risen.
In July, 175 patients remained in hospital six weeks after doctors said they were fit enough to be discharged. The main reason given was the lack of a place in a care home.
The Scottish government said last year that no patient should be delayed in hospital for more than four weeks and it wants to reduce the target to two weeks by April next year.
The statistics also reveal that children and young people who need care for mental health problems are not being treated quickly enough.
The Scottish government set a target that youngsters who need help from mental health teams should get that help within 26 weeks.
Only five of the 14 health boards have currently achieved this 26-week waiting time target from March 2013.
The NHS looks set to miss a further target in December, when young people should be treated within 18 weeks.
Only four boards currently achieve the 18-week target.
Consultant vacancies
The number of vacancies for consultants within the NHS has risen by more than 50% in the past year, according to the figures.
There are also more than 1,800 nursing vacancies.
But the figures also reveal there are more people employed by the NHS. The headcount, which includes part-time staff, has risen to just under 160,000, a rise of 1.9% over the year.
The Scottish government defended the figures, saying that the number of patients treated at A&E departments within four hours had actually risen to 94%.
The number of people who attended A&E between April and June 2014 was a record 429,000 - up almost 3% compared with the same period in 2013 and up by more than 5% since 2008.
It also said that more than 91% of patients in Scotland were being treated in 18 weeks or less.
It said the statistics showed a more than 1% rise from December 2013.
'Significant investment'
Health Secretary Alex Neil said: "These figures show that we are making progress in speeding up access to appropriate hospital services at a time when we are seeing more people come through the front door.
"The Scottish government is expanding capacity within the NHS and making significant investment to ensure that more patients continue to be treated quicker than ever before."
Speaking about bed blocking, Mr Neil said: "We have come a considerable way in tackling this problem, with comparable figures for 2006 showing three times as many people were delayed for over four weeks.
"However, it's disappointing that some patients are still delayed for lengthy periods in our hospitals. Remaining in hospital, when clinically ready to leave, is frustrating for individuals and can pose challenges in ensuring effective patient flow through the hospital."
This week, Mr Neil wrote to local authority and health board partnerships urging them to use the £5m funding recently announced by the Scottish government to address the reasons for the delays.
The Scottish government said the number of staff working in Scotland's NHS had risen to a record high, increasing by more than 7% - more than 8,800 more whole time equivalent (WTE) staff.
The figures also show that the number of qualified nurses and midwives had increased by 4.4% - more than 1,800 more WTE nurses and midwives.
In addition NHS consultant numbers are also at a record level, with a 31.2% increase - more than 1,100 more WTE consultants since 2006.
'Crisis point'
Meanwhile, a survey of the experience of hospital patients found that 89% rated their care as "good" or "excellent" - an increase since last survey two years ago. Three quarters ranked their overall experience of hospital stay as either 8, 9 or 10 out of 10.
Scottish Conservative health spokesman Jackson Carlaw said: "The pressure has been on this Scottish Government for some time in relation to A&E waiting times, and it is still managing to fall short.
"The Scottish government should spend less time talking about the NHS in a separation context, and more time dealing with the very real challenges of today."
Speaking about the bed blocking figures, Liberal Democrat health spokesman Jim Hume said: "The increasing trend of bed blocking shows just how bad problems with capacity have become. Instead of driving down the numbers of bed days occupied, they have soared by over 30,000 in just two years under the SNP.
"This isn't good for patients who are clinically ready to leave hospital and it isn't good for our NHS which remains struggling to find additional capacity."
'Most vulnerable'
Councillor Peter Johnston, health spokesman for Scottish local authority organisation Cosla, said: "This is a priority of the first order - we know that for older people in particular, a delay of longer than 72 hours can have an impact on their health and well-being."
Reacting to the figures about young people needing help from mental health teams, the Scottish Children's Services Coalition (SCSC) said the situation was at "crisis point".
Spokeswoman Sophie Pilgrim said: "We were already very alarmed at these waiting time figures from some health boards, which compound our concerns and confirm that many do not have the resources to cope with demand.
"It is those children and young people requiring these services who are missing out, the most vulnerable in our society."
Public Health Minister Michael Matheson said: "Scotland is the only country in the world to have a waiting time target for child and adolescent mental health services, and this demonstrates our commitment to this important area.
"We are determined that all boards are able to meet the target, and so we are working with all health boards to establish what additional support is needed."