People's Panel: Reaction to the Salmond v Darling independence debate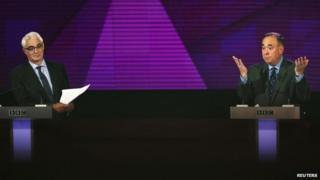 A televised debate between First Minister Alex Salmond and Alistair Darling, the leader of the Better Together campaign, took place on Monday evening.
After the showdown we asked six members of our People's Panel for their reactions.
Voters in Scotland go to the polls on Thursday, 18 September, when they will be asked the "Yes/No" question: "Should Scotland be an independent country?"
Melissa Gillen 41, is a life coach and also runs a community centre
"I think this time I was a bit disappointed with Alistair Darling. He keeps going on about the same things and I am getting a bit fed up with it. I do think that Alex Salmond answered better this time. There was not one Plan B but three. He gave different options and I was very happy with his answers tonight.
"My interest was about investment for young people. Having three young teenagers, education is important, making sure that there are better choices for them for the future. That was basically my concern and I think that Alex and Alistair covered everything. I was happy with the debate, it was better than the one three weeks ago.
"I think I am fairly optimistic now about what I am going to do. I think it is going to be a Yes.
"It is sort of swinging more to that to be honest. There was not enough coming from Alistair about why we should really want to stay. He was not putting up a good enough argument and he talked about the same things and it is getting a bit boring. I think he needs to pull something major out of the bag."
John Mercer 48, devotes much of his time to looking after his young sons
"I thought the body language and delivery of Salmond was stronger than Alistair Darling if you were looking at it as a visual spectacle. I thought some of the audience questions were quite good too.
"It has definitely given me more to think about. It was an informative 90 minutes of TV.
"I think Salmond tried to answer the best he could about the currency question and they were the sort of the answers I was expecting. He was clear about what he wanted.
"I thought Salmond blew Alistair Darling away. I thought he was a far more confident individual. He looked like a person who had been thinking about this subject for a long time and Alistair Darling looked less prepared, more nervous and perhaps someone who maybe has come into the debate later on his political career.
"After tonight it has made me more confident about possibly voting Yes."
Hal Osler 44, was born in England but now works in Edinburgh
"I feel quite sad actually. I felt both sides have actually missed the point. People are very engaged by this debate and they do not want to see two adults, no matter how passionate they are, arguing rather fruitlessly. There was not very much actual proper rhetoric. They talked over each other, they were disrespectful and it was extremely difficult.
"I think it you had to say who came out on top you would say Alex Salmond did but then again in the context of the debate, what did we learn? Very little.
"Neither of them make people feel secure or comfortable with either decision. Most people, no matter what side they are on, have got very good points that they are concerned about and they are not being answered properly.
"I am still a very weak No. Only because economically I cannot see how this is manageable. I still do not believe that the question of a monetary union has been answered properly.
"The trouble is they obviously don't like each other and they seem to be missing the point that it is not about them personally, this is about us."
Alex Arthur 60, is a retired academic
"I thought it was a pretty ugly debate, there was a lot of talking over each other.
"I thought Alistair Darling having made the score that he did with the currency in the last debate, kind of just could not get off the topic. And in actual fact, Alex Salmond went some way towards answering that but Alistair Darling pretended at the end of the debate that he had not.
"I didn't think it was terribly illuminating, I think that is the main thing. In terms of learning something about what the consequences of independence, most of it was stuff we had heard before and some of it was so obviously scaremongering, from both sides to some extent. And I did not hear anything that made me think 'oh right so that's how that would work'.
"I did not find either of them particularly convincing. But I found, I think I was slightly surprised at how unconvincing I found Alistair Darling. I thought he would put on a stronger show than he did tonight."
Ann Maxwell, 52, is a charity volunteer and lives in Midlothian
"Neither side impressed me. In fact I found the whole thing disappointing as it seemed to be a debating contest rather than a chance to say anything of substance.
"Both men showed a lack of grace. They were ungentlemanly - it felt like they didn't really respect the audience, not just those in the room but everyone watching around Scotland.
"I don't want independence and that hasn't changed, but even as a No voter you're looking for reassurance, and I didn't get that. I'm a grown-up and prepared to listen to the other side but the quality of debate was poor.
"I'm voting No because I genuinely believe we are better off as a union and that Scotland would be worse off as an independent country. Partly because businesses would leave and the economy would suffer but also because of an issue very close to my heart, which is healthcare and social services.
"I've benefited from cancer treatment on both sides of the border. We're all better off if we can draw on the full range of expertise from Scotland and England.
"I'm pleased the NHS has been brought into the debate but I don't like the way it's happened. It's come in as an afterthought in a scaremongering way from Alex Salmond, considering that the NHS in Scotland is run at the same standard if not less well than it is in England."
Ian Kinghorn 68, is a retired electronics engineer and lives in Edinburgh
"I thought in general Alex Salmond did a better job on this debate then he did in the last one and if anything, he did a better job than Alistair Darling.
"I think that he got the better of Alistair Darling in terms of the nuclear debate. And if anything on the health service as well so I think he did a better job.
"The questions I have are the ones that nobody is really able to answer, particularly about whether the job prospects for my grandchildren and beyond will be better in an independent Scotland and we are no closer to an answer to that.
"I suppose if anything it maybe took me a little further towards a Yes side.
"There is something in my head that is beginning to get a bit of traction and that is of a tactical Yes vote. What I mean is that if the vote does go no then the more people that vote yes might hopefully increase the prospects of the UK government ceding more powers to Scotland."