Scottish independence: Postal ballot papers to be sent out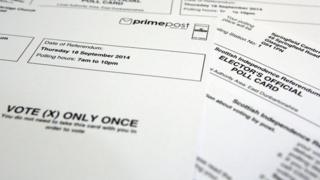 Local councils are set to begin sending out postal ballot papers for the Scottish independence referendum.
Voters have just one week left to register to take part in the poll on 18 September.
Those who have signed up to vote by post will start to receive their papers from Wednesday.
More than 50,000 registration forms were downloaded from the Electoral Commission's website between August 11 and 20.
About 2.5m copies of the commission's impartial voting guide were sent out during that period.
The commission's television, radio, billboard and online advertising campaign runs until the registration deadline on 2 September.
Andy O'Neill, head of the Scotland Office at the Electoral Commission, said: "There's a huge amount of interest in the referendum and that's reflected in the unprecedented response to the first 10 days of our awareness campaign.
"With just a week left to register to vote, we're encouraging anyone who is not already registered to download a form at www.aboutmyvote.co.uk or call our helpline on 0800 3 280 280 to request one as soon as possible."