Jim Crace and Hermione Lee win James Tait Black Prizes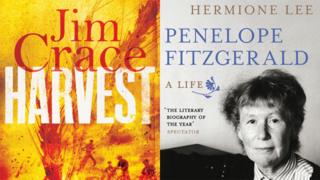 A novel on the disintegration of a remote community in England, and a biography of a Booker prize-winning novelist are the winners of Britain's oldest literary awards.
Novelist Jim Crace and biographer Hermione Lee have been awarded the James Tait Black Prizes.
The winners were announced by broadcaster Sally Magnusson at the Edinburgh International Book Festival.
The prizes have been awarded annually by Edinburgh University since 1919.
Past winners include DH Lawrence, Graham Greene, Angela Carter and Ian McEwan. The winners receive £10,000.
Former journalist and broadcaster Jim Crace claimed this year's fiction prize for his book Harvest.
The British-born author, who has written 13 books, has several prestigious awards to his name, including a Donald Windham-Sandy M Campbell Literature Prize from Yale University.
Harvest tells the story of a remote English village as economic progress disrupts pastoral idyll following the Enclosure Acts, creating legal property rights to land that was previously considered common.
Fiction judge Dr Lee Spinks said: "In Harvest, Jim Crace presents a spellbinding lyrical reflection upon the nature of cultural inheritance and the obligations and responsibilities of community in a changing and uncertain world.
"It is a novel fit to be ranked among his very best, which means that it can be considered one of the distinctive achievements of contemporary literature in English."
'Masterclass in writing'
Respected academic, critic and biographer Prof Dame Hermione Lee won the biography prize for her book Penelope Fitzgerald: A Life.
Prof Lee has written widely on women writers, including Virginia Woolf and Edith Wharton.
Biography judge Prof Jonathan Wild said: "Hermione Lee's biography of Penelope Fitzgerald provides a masterclass in writing of this type.
"It's the perfect marriage of an excellent subject and a biographer working at the very top of her game."
The James Tait Black Prizes are distinctive in the way they are judged.
Each year more than 400 novels are read by academics and postgraduate students who nominate books for the shortlist.
The awards, organised by the University of Edinburgh's department of literatures, languages and cultures, were founded by Janet Coats, the widow of publisher James Black.
In 2013 the prize was extended to include a new category for drama.
Cannibals, a play set in an ex-Soviet war zone by British playwright Rory Mullarkey, was awarded the £10,000 prize for outstanding new drama earlier this month.